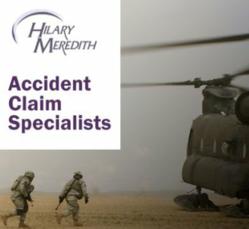 Wilmslow, Cheshire (PRWEB UK) 18 June 2013
A Royal Marine who won an award for bravery after suffering horrendous injuries in Afghanistan has been successful at the Court of Appeal in his claim for damages against the Ministry of Defence.
Thomas Birch, of Trinity Way, Heanor, according to case number B3/2012/2158, was a young Lance Corporal when the Land Rover he was driving on a mountain track in Helmand Province plunged 100 feet down a mountainside. The 25-year-old suffered debilitating skull, brain and internal injuries in the accident.
Instructing Mr Gary Boyd of Hilary Meredith Solicitors Ltd, he launched legal action against the MoD, claiming that a fault in the vehicle was to blame and he had been allowed to drive without a license or military permit.
However, the High Court dismissed his claim last July, with Mr Justice Blair finding that the crash could not be put down to a mechanical defect and that Mr Birch "must take responsibility for his own decision to drive", according to case number B3/2012/2158.
Now Lord Justice Longmore, sitting with Lord Justice Tomlinson and Mr Justice Lewison has overturned the High Court decision and allowed the Appeal. They also agreed that Tom was not negligent in any way.
Commenting on the successful appeal, Hilary Meredith / Gary Boyd said:
"We are delighted Tom's appeal has been successful. The judges have also agreed that there was no contributory negligence which is important and correct. We felt very strongly that the Judge's findings in the High Court were wrong as he overlooked evidence in making his Judgment.
"Evidence was given by another Marine in Tom's unit, confirming that he frequently drove without the military license required to do so, to the knowledge of the commanding officer.
"The failure to recognize a breach of duty of care on the part of the MOD in this case is quite shocking, particularly given the age of the claimant.
"Tom was 17 years old when he joined the army and his parents signed over their parental care to the MOD. He was only 18 when this terrible event occurred, robbing him of his army career and a normal life and returning him broken to his parents care.
"Today's decision is the right one. Tom was not to blame for what happened in any way at all. We can now help him move on with his life."
Hilary Meredith Solicitors Ltd instructed Amanda Yip QC and Chris Barnes of Exchange Chambers who represented Tom Birch at the High Court and Court of Appeal.
Case No: B3/2012/2158
IN THE COURT OF APPEAL (CIVIL DIVISION) ON APPEAL FROM MANCHESTER DISTRICT REGISTRY THE HONOURABLE MR JUSTICE BLAIR
9MA91625
Royal Courts of Justice
Strand, London, WC2A 2LL
Date: 14/06/2013
Between:
THOMAS BIRCH Appellant
and
MINISTRY OF DEFENCE Respondent
Note: Hilary Meredith are pursuing a civil action on behalf of Thomas Birch against the MOD and following an order some time ago for a 'split trial' (an order that the issue of liability be tried first before 'Quantum(value)), there was a trial of liability in July 2012 when the High Court found against our client. We appealed that decision and on Friday last, the Court of Appeal 'handed down ' its Judgment. They found 100% in our client's favour, overturning the High Court's decision.