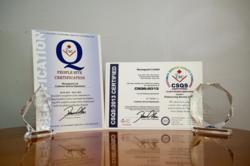 San Jose (PRWEB) June 18, 2013
Nexusguard is proud to announce that it has received the People Site Certification (PSC) and Customer Service Quality Standard (CSQS) certification from the Asia Pacific Customer Service Consortium (APCSC). Not only do they reaffirm Nexusguard's commitment to each of its customers, the certifications also recognize its efforts toward providing employees with the opportunity for personal growth.
With Internet connectivity ubiquitous in the developed world, companies can now deliver services and products to their customers with unprecedented speed and efficiency. On the flip side of the coin, cyber attacks have also evolved over time, becoming increasingly sophisticated and are more threatening—and damaging—than ever. Nexusguard recognizes the growing threats of cyber attacks and its team of security experts take pride in responding quickly and effectively when customers are at risk. However, Nexusguard's core value has always been, and always will be, exceptional customer service.
Nexusguard is currently the only Internet security service provider to receive both certifications. As an Internet security service provider, Nexusguard's core values perfectly match those advocated by the People Site Certificate: Integrating professional customer service staff with mission critical services and processes to ensure that efficient and reliable services are provided to all customers with unique and sophisticated requirements.
In addition, Nexusguard evaluated processes and standard procedures widely adopted in the industry and decided that it could go one step further. By refining procedures and workflows to revolve around customer experience, Nexusguard ultimately struck a balance between effectiveness and customization. From managing accountability to distributing resources to monitoring processes, Nexusguard made sure that customers remain the center of its business—not the other way around. By implementing CSQS standards, Nexusguard ensures that customers will consistently receive exceptional service regardless of their language, industry, business model or IT infrastructure.
As DDoS attacks grow in complexity, sophistication and organization, security means more than technology and finesse. In an industry where technology and finesse are king, Nexusguard maintains that customer service must never take a back seat.
Nexusguard's motto is 'Your uptime, our passion.' Each time our clients are attacked, we pour our heart and soul into taking care of the security ends for our clients so they can focus on the business side with unprecedented peace of mind. It's more than just business, we let our clients know we care.
About Nexusguard
Nexusguard is an industry-leading Internet security service provider, proven by years of experience mitigating thousands of attacks per month. Established in 2008, Nexusguard continues to provide innovative end-to-end, cloud-based Internet security solutions. By protecting clients against the ever-increasing and evolving multitude of Internet threats, Nexusguard's cloud-based security solutions empower clients around the globe with uninterrupted services. For more information, please visit http://www.nexusguard.com.
###
Press Contact :
Stanley Liu - Senior Marketing Executive, Hong Kong
+852-3526-0626
Ivy Wu - Marketing & PR Executive, Taiwan
+886-2-2659-8958
contact(at)nexusguard(dot)com