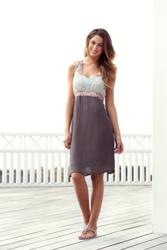 The market has a lot to offer younger women and expecting moms, but what about after that stage? What are your options after you have had kids and your body has changed but you still want to look amazing and fashionable?
Ontario, Canada (PRWEB) June 18, 2013
Online women's clothing, jewelry & accessories store, Apricot Collection, has a new target: The Mommy Market.
Apricot Collection is based in Ontario Canada and was founded in 2012 by Michelle Herscu. As a mother of two young children, Herscu experienced her own frustrations trying to find fashions that flattered her new post-baby figure. Her biggest problems in the apparel department were finding styles that actually looked good on her (and not just on the model from the ad), complimented other pieces in her wardrobe, and were stylish and fashionable.
It was at that time she decided to create an online women's clothing store with one main target – helping busy moms find fashionable, unique pieces that would not only fit but accentuate their best features. Providing busy moms with fashions that make them look and feel fabulous even when chasing after their kids. Now by having an online presence, Herscu is able to reach out to as many busy moms as possible worldwide.
Though currently Apricot Collection is only shipping in North America, their plan is to set up a shipping system that would work worldwide by the end of this year. All the pieces carried by Apricot Collection are hand-picked by Herscu herself with the assistance of her Head Stylist, Ashleigh Scott.
Scott is an internationally renowned full-figured model and make-up artist. During her career, Ashleigh has been featured in numerous editorials from publications such as Cosmopolitan, YM, Flare, Chatelaine, Canadian Living and Glow. She is currently represented by more than 10 agencies worldwide. In the last decade her work has been showcased on many television programs, fashion shows as well as having the opportunity to beautify celebrities at TIFF. Most recently she has had the amazing opportunity to showcase her fashion expertise on the national stage by joining the television program "Cityline" as a stylist and guest expert.
Apricot Collection is focusing on unique styles that have a bit of a twist when compared to others. They can be defined as casual-chic, some with vintage hints and some more classic, but each with a special edge to it.
In an attempt to reach out to more women, Apricot Collection has added another line to its online store, "Allistyle". This line focuses primarily on plus sizes but does offer smaller sizes as well. Allistyle, which is based in Toronto, Canada, manufactures every piece in Canada from a sustainable fabric and viscose, originating from bamboo and organic cotton. The characteristics of the line are simplicity, comfort, classic and very travel friendly as it will launder well in a washing machine and never wrinkle.
About Apricot Collection:
Apricot Collection is a Canadian based online company which came to life after Michelle Herscu, founder and owner, decided to combine her love of fashion with her love of business. She always felt the market was not offering enough, especially for busy mommies, and online stores usually target one audience, whether it was young girls or just a specific style.
That is why today she is always looking for new brands to add to the collection and pieces that represent a different style for various occasions. Another element that is important to her is to ensure quality is never compromised. Whether it's classic-chic, feminine, bohemian or vintage, Apricot Collection offers them all and as time progresses, the company looks forward to adding even more brands and styles to their catalogue.