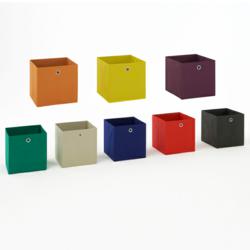 (PRWEB UK) 29 June 2013
FurnitureInFashion, one of the UK's leading suppliers of contemporary and modern furniture, has contracted with Stainless Direct to supply foldable storage boxes. This UK-wide agreement concluded by FurnitureInFashion, gives the company access to businesses interested in purchasing contracts at low, pre-negotiated prices. In addition to contemporary furniture for all home requirements, FurnitureInFashion offers the most extensive range of storage furniture available in the UK. The foldable storage boxes are offered in multiple sets of different colors by FurnitureInFashion. They are popular as an attractive, convenient and affordable solution to storage needs.
Stainless Direct is a well known company based in the UK, which manufactures stainless steel products for bathrooms and kitchens in both the domestic and trade market. They supply stainless steel splashbacks, plinths, upstands, block-ends, doors, drawer fronts and other stainless steel products. In addition, products offered by the company include polished or brushed tubes, utensil rails, worktop protectors and door finger plates. The company is long established and is one of the most prominent in supplying stainless steel products. A spokesperson for Stainless Direct said, "Stainless Steel has been buying storage furniture from many companies within the UK. The company decided to buy folding storage boxes from FurntiureInFashion due to their excellent reputation for quality and design. Stainless Direct has purchased foldable storage box multiple sets in different contemporary colors. These storage boxes are a great product as they can be used to store any amount of items within the office and they look good as well."
The spokesperson also added, "The deal with FurnitureInFashion has been an excellent experience for Stainless Direct. The customer service provided by FurnitureInFashion is impressive and the delivery service was exactly as promised. The quality of foldable storage boxes is just what Stainless Direct wanted. Following this experience, Stainless Direct, has decided to order all its furniture from FurnitureInFashion in the future. Stainless Direct believes that, in partnership with FurnitureInFashion, we will be even better placed to meet the requirements of companies and individuals by offering exclusive deals at affordable prices."
The Managing Director and CEO of FurnitureInFashion said, "FurnitureInFashion is thrilled to work with Stainless Direct. Stainless Direct is one of the UK's leading companies in stainless steel products. FurnitureInFashion is very proud to have been selected from among its competitors to supply foldable storage boxes. The foldable storage boxes are non-woven, with metal grommets. These boxes are available in various colors including blue, red, green, anthracite, orange, yellow, purple, natural and pink. The materials used in the manufacture of these boxes are of the highest quality. The boxes are 32cm wide, 32cm high and have a depth of 32cm. These boxes are ideal for storage and fit well with any given room arrangement. FurnitureInFashion look forward to working with Stainless Direct in the future."
FurnitureInFashion claims to be the largest supplier of innovative and contemporary furniture in the UK. The company offers free of cost home delivery service within the UK and holds over 90% of its catalogue in stock.
To have a look at quality, affordable storage furniture online, and to place a pre-stock order, please visit the company website today at http://www.furnitureinfashion.net. The range of storage furniture on the website is huge, delivery is fast, savings are massive and quality is guaranteed.
About FurnitureInFashion
FurnitureInFashion is a UK-based online retail business. It supplies furniture items from its German-based warehouse and has a showroom in Bolton, UK. The company provides everything from umbrella stands, wall art and room dividers, to bedroom suites, bar stools, and computer tables. FurnitureInFashion offers free delivery within the UK and is rightly proud of its excellent customer service. For further information and details about sales, please visit http://www.furnitureinfashion.net.