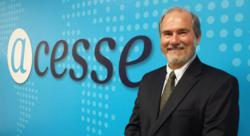 Minneapolis, MN (PRWEB) June 17, 2013
Acesse Corporation's Executive Team made the decision to appoint David Larsen, former Vice President of the Private Client Reserve division of U.S. Bank, as the trustee for its Equity Sharing Plan. David Larsen will represent and protect the interests of the qualified Internet Marketing Consultants at Acesse.
The Equity Sharing Plan is a trust that Acesse Corporation set up for all qualified Internet Marketing Consultants to receive a share of Acesse's profits. In 2012, 15% of Acesse's pretax profits were put into the trust. Approximately $1.5 million was deposited into the trust and Acesse anticipates that the amount will double after 2013.
Acesse believes it is important that qualified consultants have an opportunity to own shares of the company stock, if and when the company goes public. Currently, there are over 20,000 Internet Marketing Consultants that have qualified for a percentage of the Equity Sharing Plan.
"We are very fortunate to have such a skilled legal advisor, David Larsen, to oversee the Acesse Equity Sharing Plan and Trust. We are pleased to move forward with the Trusteeship," said Amy Ayd, CFO of Acesse.
David Larsen has worked in corporate trusteeship for 30 years with several Fortune 500 companies. He served at various fiduciary capacities at U.S. Bank, Marquette Bank, and Wells Fargo. David Larsen received his Bachelor of Arts from St. Cloud State University and a Law Degree from Hamline University School of Law where he also taught as an Adjunct Professor for six years.