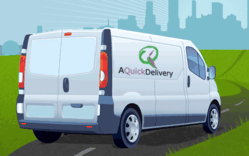 Atlanta, GA (PRWEB) June 18, 2013
AQuickDelivery, a recognized leader in same-day delivery, messenger and transportation services, announces Judge Delivery Services within Georgia. The Atlanta courier makes the announcement to its clients in an effort to market its courier service options for law firms, increase customer loyalty and sales growth. AQuickDelivery is a courier that strives to be the best choice in courier and same-day solutions throughout Georgia.
The AQuickDelivery Judge Delivery Services consist of any court filing by law firms that require an additional delivery to a judge at that court. Many law firms must not only perform a filing and date stamped copy of the document, but also want the Judge involved in the case to receive a stamped date copy as well. AQuickDelivery provides this service for law firms as an additional delivery or "add-stop" to the Judge. This type of judge delivery is an additional $5 to the original filing to the clerk, due to it requiring the driver to travel within the building.
AQuickDelivery also offers its law firm clients the option of a Judge Delivery Service in which the document being picked up is only being delivered to the judge. This document does not require filing and the driver can also leave it with the judge's assistant. If the judge is to sign the document and have it delivered back to the law firm, AQuickDelivery can provide that service as well. The Atlanta courier can provide same-day delivery of the signed document or the law firm can request a return delivery the following day. The next-day return delivery will be performed between 8:00am and 12 noon, unless the client specifies otherwise.
The judge delivery services is not only available to within Metro-Atlanta and Atlanta, but also can be performed for long distances to other court systems within the entire state of Georgia. For special service requests, customers can contact AQuickDelivery's Sales Staff, which is knowledgeable and capable of creating a judge delivery solution to meet any clients' judge delivery needs.
AQuickDelivery is a premier Atlanta courier offering transportation and distribution services throughout Georgia. From small packages to palletized freight, AQuickDelivery delivers fast. From Atlanta, Georgia, the courier provides same-day delivery successfully for over 1,500 clients, including Fortune 500 companies nationwide.