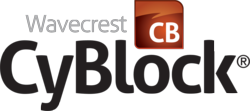 we are absolutely committed to protecting our customers against malware.
Melbourne, Florida (PRWEB) June 20, 2013
Malware is the scourge of the Internet. It plagues computer users in the form of viruses, worms, Trojan horses, spyware, adware, and other malicious programs. Malware can be especially damaging to computer systems used in businesses and government organizations, severely disrupting business operations, gathering sensitive information, and/or gaining access to internal systems.
Most malware originates in–and is spread from–Web sites designed for these purposes. Unfortunately, many thousands of such sites exist today, and the number is growing rapidly.
Good news comes from Wavecrest Computing, a long-term provider of cost-effective Web-use management solutions for business and government clients. The company announced an important innovative enhancement into its family of Web Security Solutions that significantly reduces the risk of malware attacks.
The challenge has been keeping our malware protection up to date in the face of the continuous, relentless, and rapid increase in the number of malware-spreading sites. Wavecrest's Enhanced Malware Protection addresses this crucial issue. It uses a new automated technique to identify large numbers of new sites and keeps the malware protection as current as possible at all times.
"We're confident that this latest enhancement to our CyBlock Web Security Solutions will significantly reduce this invasive threat and add even more value to our Web security products," said Dennis McCabe, Wavecrest Computing's CEO. "As in other areas of Web-use management, we are absolutely committed to protecting our customers against malware. This includes protection against automated invasion of malicious scripts and software and/or unauthorized access to internal networks–the two major problems caused by malware."
Wavecrest Computing, whose client list includes well-known corporations such as Edward Jones, General Electric, IBM, MillerCoors, Rolex, and Siemens, develops, markets, and supports Web-filtering and Web-use reporting solutions for all types and sizes of organizations. In addition to now thwarting malware, Wavecrest Computing's products help curtail casual surfing, protect against bandwidth abuse, prevent losses in workforce productivity, and reduce legal liability risks.