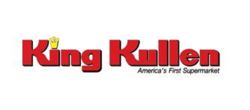 Bethpage, NY (PRWEB) June 27, 2013
King Kullen is excited to announce the expansion of its Bridgehampton Store and the expansion of its convenient online grocery shopping program, called "Shop OnLine." In King Kullen's new in-store "East End Café," the juice bar is blending together some refreshing and healthy juices, and lunchtime has never been so easy with "build-your-own-sandwiches," a chopped salad station, and fresh sushi made daily.
Customers of the Bridgehampton store will be pleased to see that the store has made some improvements and expanded now to 62,100 feet, including an additional bottle machine in the bottle return room and a complete set of brand new checkouts. The produce department offers even more fresh fruits and vegetables, as the wider department has grown by 725 square feet. Rich Conger, Director of Produce and Floral, commented that "Produce displays are more open and accessible than ever before. The beautiful wooden tables in the newly expanded area make the produce department even easier to shop." The relocated bakery department now shows off its delectable cakes, pastries, breads and other fresh-baked treats with brand new display cases, and the dairy department's brand new refrigerated cases allow for additional offerings.
The snack bar has tripled in size and has transformed into a café, branded the "East End Café," with 17 tables and seating for 48 people. The East End Café features a coffee counter, soup bar, sushi case, sandwich case, chopped salad station, juice bar, and a hot case for prepared foods.
King Kullen's juice bar features some of the most refreshing and energizing blends, a perfect way to start shopping. The refreshing selections are also ideal for customers stopping in after a workout or a day at the beach. Al Spinazzola, Director of Dairy and Deli, explained there are many juices to choose from, including fresh carrot juice, mixed vegetables, "Greens with Carrot," a blend of spinach, kale, parsley, celery, and carrots, and the "Dieter's Delight," a blend of cucumber, celery, and beets. The juice bar also serves up wheatgrass shots.
Lunch just got simpler for customers on-the-go. King Kullen's sandwich station has fresh paninis, signature sandwiches, vegan sandwiches and a "build your own sandwich" option, all on fresh gourmet breads. There is also a chopped salad station and grab-and-go sandwiches and salads, and a full line of vegan sandwiches and salads.
The store also now features two deli kiosks, allowing customers to place deli orders and continue shopping while meats and cheeses are freshly sliced, to order.
Since King Kullen's online grocery shopping service, "Shop OnLine," launched in its Island Park store last fall, King Kullen's convenient online shopping program has grown in popularity. On May 15, the Shop OnLine was expanded to Bridgehampton. Customers can simply visit the Shop OnLine page on the King Kullen website, http://www.kingkullen.com/shoponline/, choose their store and begin shopping.
Orders can be picked up at the store or delivered to the following available areas: Bridgehampton, East Hampton, North Haven, Sag Harbor, Sagaponack, Southampton, Wainscott and Watermill.
A dedicated personal shopper handpicks every item on the customer's order and ensures that each item meets and exceeds King Kullen's high quality standards. Shop OnLine customers who select to pickup their groceries at store, can park in reserved parking areas on the southeast side of their store, use a separate rear entrance, and separate checkout, without ever having to enter the main portion of King Kullen's Bridgehampton location.
About the company:
Headquartered in Bethpage, New York, King Kullen Grocery Co., Inc. is recognized by the Smithsonian Institution as America's first supermarket. Michael J. Cullen opened the doors of King Kullen in 1930. Today, three generations later, King Kullen is still family owned and operated. It remains a leader in the supermarket industry. From that very first store in 1930, King Kullen today operates 41 supermarkets and four Wild by Nature stores across Long Island. In addition to traditional grocery, King Kullen features a large catering and prepared foods department, freshly baked breads and sweets, and healthy and organic areas, with pharmacies in many stores as well. For information about King Kullen, please visit their website at: http://www.kingkullen.com.