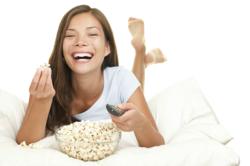 Talk to us about DRTV, even if at this stage you don't have a big TV advertising budget. With our help, you could have in the future!
London, UK (PRWEB UK) 18 June 2013
The DRTV Centre responds to a recent press release, http://online.wsj.com/article/PR-CO-20130605-909118.html published in the Wall Street Journal, in which California DRTV specialist agency Script to Screen gives comprehensive advice about DRTV and recommends the use of Focus Groups. The DRTV Centre disagrees and explains why.
First, though, what is meant by DRTV? The initials stand for Direct Response Television advertising. The DRTV advertiser aims to achieve an immediate response from the viewer via a heavily-featured 0800 number, text response or website visit.
"Short form" DRTV commercials are 2 minutes or less. In the UK, most are 30 seconds or 60 seconds. "Long form" DRTV commercials – also known as infomercials – are longer, usually half an hour. DRTV can produce colossal numbers of enquiries fast. Unlike brand advertising, it is immediately and accurately accountable.
In its Wall Street Journal article, Script to Screen states that consumer research can be a useful early component in developing products or services for DRTV promotion and recommends the use of focus groups.
In The DRTV Centre's experience, focus groups may well help in developing "long form" DRTV, and are certainly useful in stimulating the early stages of idea generation, where consumers comments can often be a useful stimulus for creative teams. However, for "short form" DRTV (at which The DRTV Centre specialises) focus groups are not recommended. Indeed they can be highly misleading.
A focus group environment is completely different from the environment where DRTV commercials are viewed in real life. Effective DRTV commercials are designed to grab viewers' attention "there and then" and persuade them to buy instantly. This is the powerful immediate effect of great DRTV advertising.
In contrast, Focus Groups take place in an artificial environment. A group of six to ten strangers is brought together in a Viewing Facility, or a hotel, or a recruiter's home, or other neutral location. The respondents are questioned in a group by a skilled focus group moderator. This is a great way to get inside consumers' minds – but is a totally different situation from viewing a commercial at home. They are asked to view the test commercial – in other words, this is "forced exposure" rather than the normal way in which viewers at home see commercials, "by chance."
Focus groups will cheerfully inform happily tell clients what they like or don't like about a DRTV commercial. Unfortunately, what they like or don't like in a commercial has precisely nothing to do with what stimulates them to respond to the commercial – to pick up the phone and place an order within seconds of viewing.
In the early days of DRTV, in 1975, a famous commercial showed a man in a tuxedo painting his ceiling while the voice-over asked "Why is this man painting a ceiling in a tuxedo? Because he's using the amazing new Miracle Painter®!" The commercial produced unprecedented masses of orders. Now imagine this idea being exposed within a focus group environment and the danger of being ridiculed by the respondents. Focus groups can endorse mediocre ideas, especially if they are seen to be "safe" – and they can kill "off the wall" breakthrough ideas.
About The DRTV Centre:
The agency was founded in London sixteen years ago. It is the only advertising agency in the UK to concentrate purely on direct response TV.
The DRTV Centre's service includes everything clients need to mount successful DRTV campaigns: strategies, idea creation, scriptwriting, storyboards, research, casting, location search, film/video production, music, voice-overs, Clearcast clearance, transmission copies, channel selection, TV airtime planning/booking and campaign response analysis.
David Pearson of The DRTV Centre adds "Our specialist advertising agency can achieve for you what we've achieved for dozens of other great clients. We have worked with several clients who started with a tiny TV budget and who are now substantial advertisers, partly thanks to our expertise. So talk to us about DRTV, even if at this stage you don't have a big TV advertising budget. With our help, you could have in the future"
For more info, call The DRTV Centre on 0800 635 9000.