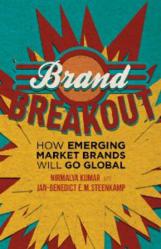 "Do not underestimate the emerging market companies that are attempting brand breakout."
Chapel Hill, North Carolina (PRWEB) June 18, 2013
How does a company in an emerging market like China, Brazil or India build a global brand? What is the best route?
The new book "Brand Breakout: How Emerging Market Brands Will Go Global" identifies eight paths that emerging-market firms can follow to success in the global marketplace.
Marketing experts Jan-Benedict E.M. Steenkamp of the University of North Carolina Kenan-Flagler Business School and Nirmalya Kumar of London Business School outline strategies for emerging market "brand breakout" and share critical lessons from the brands that already have made these moves.
Their guide is based on their extensive interviews with executives from aspiring global brands in China, Brazil, India and other emerging markets; original academic research; and consulting with companies on all continents.
In addition to identifying "brand breakout" strategies for emerging market firms, the book will help Western brand managers understand the changing nature of global competition. Companies in search of global growth are focused on emerging markets, which now account for 50 percent of global output – up from 20 percent in 1980 - and 80 percent of global growth – a shift in the economic center of gravity the world has not seen before, says Steenkamp.
"There is no room for complacency when it comes to competing with these firms," says Steenkamp. "Do not underestimate the emerging market companies that are attempting brand breakout."
Steenkamp and Kumar identify eight routes to "Brand Breakout":
1. Asian tortoise: Migrate to higher quality and brand premium.
A brand can enter a developed market on the low end and slowly build brand recognition and economies of scale over time to improve quality and raise prices. When it is ready to go after the premium market, it can introduce a separate premium brand that's distinct from the original. Examples include Haier, Pearl River Piano and Wanli in China.
2. Business to consumer: Leverage B2B strength in B2C markets.
By building a B2B brand first, managers can start a platform for expansion, develop name recognition and attract first-rate talent. When the company is ready to start marketing to consumers — often in an adjacent product category — it has a bigger foundation on which to build. Examples include ASD, Galanz, Huawei and ZTE (China) and Mahindra (India).
3. Diaspora: Follow emigrants into the world.
With unprecedented numbers of people not living in their native countries, a company can enter developed markets by going after its ethnic groups first. Over time, the brand might attract Western customers, too. Examples include Corona (Mexico), Dabur (India), Jollibee (Philippines), Maybank Islamic (Malaysia), Mandarin Oriental (China) and Pran (Bangladesh).
4. Brand acquisition: Buy global brands from Western multinationals.
An emerging market company can acquire a Western company, a move that allows it to buy in to the developed market and gain both an instant international reputation and access to distribution channels in the process. Examples include Bimbo (Mexico), Geely, Lenovo and TCL. (China), and Tata Motors (India).
5. Positive campaign: Overcome negative associations of the country of origin.
Rather than flaunting its nationality, a company can hide its country of origin or attack the stereotype that developed market consumers have of their country. Examples include Chang Beer (Thailand), and Ospop, Roewe, Shanghai Vive and Sheji/Sorgere (China). Nation-branding campaigns (South Korea) also are an option.
6. Cultural response: Position on positive cultural myths
Because Western consumers often associate different emerging markets with certain positive attributes, a firm can leverage its country of origin for global advantage. Examples include Havaianas (Brazil), and Herborist, Shanghai Tang and Shang Xia (China).
7. Natural resources: Brand commodities in four steps.
A brand can be created for natural resources, standing in as both a quality guarantee and a provider of emotional satisfaction. This can be done by explicitly linking it to a country or by branding the commodity itself. Examples include Café de Colombia (Colombia), Concha y Toro (Chile), Forevermark (South Africa), Habanos (Cuba), Natura (Brazil) and Premier Cosmetics (Israel).
8. National champion: Leverage strong support from the state.
The states champions a company is and provides subsidies or preferential treatment, such as state resources to expand both domestically and, subsequently, internationally. Examples include China Mobile and Comac (China), Embraer (Brazil), Emirates Airlines (Dubai) and Proton (Malaysia).
Steenkamp is the C. Knox Massey Distinguished Professor of Marketing and the Marketing Area Chair at UNC Kenan-Flagler. He also is executive director of AiMark, a global institute studying key brand strategy issues. A native of the Netherlands, he has taught, consulted and given executive seminars in all continents. He is rated the most influential marketing scholar of the last decade, and he is a valued branding and strategy consultant. Harvard Business Review, The Wall Street Journal, Financial Times, The Economist, The New York Times and other outlets have featured his work.
#
Bio and downloadable photo: http://www.kenan-flagler.unc.edu/faculty/directory/marketing/jan-benedict-steenkamp
The University of North Carolina Kenan-Flagler Business School
Consistently ranked one of the world's best business schools, UNC Kenan-Flagler is known for its collaborative culture that stems from its core values: excellence, leadership, integrity, community and teamwork. Professors excel at both teaching and research, and demonstrate unparalleled dedication to students. Graduates are effective, principled leaders who have the technical and managerial skills to deliver results in the global business environment. UNC Kenan-Flagler offers a rich portfolio of programs and extraordinary real-life learning experiences: Undergraduate Business (BSBA), full-time MBA, Executive MBA Programs (Evening, Weekend and global OneMBA®), online MBA@UNC, UNC-Tsinghua Dual-Degree EMBA, Master of Accounting, PhD, Executive Development, and UNC Business Essentials programs. It is home to the Frank Hawkins Kenan Institute of Private Enterprise.