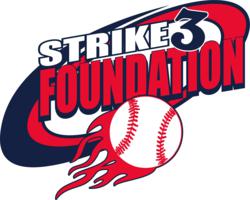 "The Strike 3 Foundation is excited to work with Tickets-for-Charity in the promotion of our inaugural Boston fundraising event." - Red Sox Pitcher and Strike 3 Foundation Founder Craig Breslow
Boston, MA (PRWEB) June 17, 2013
Boston-based Tickets-for-Charity and the Strike 3 Foundation have partnered to offer fans a unique opportunity to spend an evening raising funds for childhood cancer research with current members of the Boston Red Sox. The June 24th event, called 'Sip Happens', is an evening of premier dining, wine tasting and celebrity mingling presented by the Foundation and held at the Alden Castle in Brookline, MA.
Current Boston Red Sox pitcher Craig Breslow founded the Strike 3 Foundation in 2008 as a way to heighten awareness, mobilize support and raise funds for childhood cancer research. About the partnership and event, Breslow stated, "The Strike 3 Foundation is excited to work with Tickets-for-Charity in the promotion of our inaugural Boston fundraising event. We recognize the unique opportunity to increase our impact through a channel that shares our vision of improving the lives of others." In addition to Breslow, Red Sox pitcher and Strike 3 Foundation Board Member Andrew Bailey will also be in attendance along with many other current Red Sox players, creating unique meet and greet opportunities for those in attendance.
Tickets-for-Charity CEO Jay Whitehead said about the event, "We are excited to partner with the Strike 3 Foundation, Craig and Andrew to raise funds for such a great cause. Tickets-for-Charity has raised more than $12m for charity since our inception and we look forward to helping the Foundation reach its goals in 2013 and beyond!"
Tickets can be purchased now at http://www.ticketsforcharity.com or by calling 866-567-4576. Cocktail attire is preferred.
About the Strike 3 Foundation
The Strike 3 Foundation is a charitable agency that heightens awareness, mobilizes support, and raises funding for childhood cancer research. Founded in 2008 by MLB pitcher Craig Breslow, the tenets of the Strike 3 Foundation had been in place for some time. At age 14, Craig's sister was diagnosed with thyroid cancer. More than fifteen years later, she lives an unrestricted life as a cancer survivor. Unequivocally, this success story is attributed to advancements in pediatric oncology treatment and research funded largely through generous donations and charitable efforts.
About Tickets-for-Charity.com®
Tickets-for-Charity.com works with touring artists and professional sports teams to offer fans access to some of the best seats in the house and exclusive VIP experiences where every ticket benefits charity – turning fans into fanlanthropists. From Carrie Underwood and John Mayer to the Boston Red Sox and San Francisco Giants, Tickets-for-Charity.com has worked with dozens of artists and teams to generate millions of dollars in charitable donations for some of the world's most respected charities. For more information on current Tickets-for-Charity programs and partners, please visit http://www.ticketsforcharity.com.