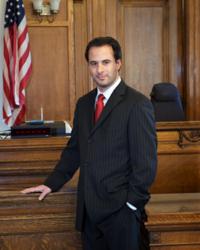 We'll take care of it.
Denver, CO (PRWEB) June 18, 2013
Colorado defense lawyers call for independent investigation of CDPHE lab due to allegations that lab analysis has been biased towards prosecutors, reports The Law Firm of Jeremy Rosenthal.
A recent report alleging that the labs of the Colorado Department of Public Health and Environment may have improperly analyzed evidence in criminal and DUI cases has led Colorado criminal defense attorneys like Jeremy Rosenthal to call for an independent investigation of the lab.
Colorado criminal defense attorneys have banned together to demand that an independent investigation of the state's toxicology lab be conducted due to recent findings that the lab may have improperly analyzed criminal evidence with a bias towards the prosecution. Specifically, the report that has generated this controversy regarding the analysis of criminal evidence was conducted by the Mountain State Employers Council and focused on personnel issues in the Laboratory Services Division of the Colorado Department of Public Health and Environment (CDPHE). [http://www.denverpost.com/breakingnews/ci_23429158/defense-lawyers-want-independent-investigation-colo-toxicology-lab [June 10, 2013]
The report has alleged that the CDPHE lab, which analyzes criminal evidence for 225 law enforcement agencies in Colorado, has displayed a bias in assisting prosecutors with convictions, rather than upholding justice by maintaining an unbiased approach to analyzing criminal evidence. Some of the specific issues the report has highlighted include that the CDPHE lab has failed to properly train its staff on how to analyze blood samples (including those associated with DUI cases) and that the lab often had unqualified staff testify as experts for prosecutors in criminal cases.
In fact, the report is dated March 18, 2013 and was initially sent to the Colorado Attorney General and the Colorado District Attorney's Council. Upon determining that the findings of the report may present mitigating evidence in the prosecution of certain criminal cases in which the CDPHE lab was involved, Colorado Attorney General John Suthers obtained permission from the CDPHE to release a redacted copy of the report to the Colorado Public Defender's Office and the Colorado Criminal Defense Bar. This redacted copy, along with a letter from the Mr. Suthers was issued on June 7, 2013. [http://library.constantcontact.com/download/get/file/1110082448530-10/MSEC+Letter+and+Report.pdf [June 7, 2013]
"In the almost three months since this report was written, hundreds of people have been convicted with no knowledge that their cases were affected by the malfeasance described in this report," the Defense Bar has stated. "Prosecutors should have immediately disclosed the problems described in this report. Instead, many cases have resolved, and people may have been wrongfully convicted." [http://www.denverpost.com/breakingnews/ci_23425614/bias-cited-colorado-dui-lab-defense-lawyers-plan [June 9, 2013]
About The Law Firm of Jeremy Rosenthal
The criminal defense lawyers at the Law Firm of Jeremy Rosenthal are dedicated to aggressively defending the accused in DUI cases, medical cannabis-related matters and other types of criminal law cases. We handle cases all along the Front Range from the Greater Denver Area (Denver County, Arapahoe County, Adams County, and Jefferson County) to Boulder, Fort Collins and Greeley. Mr. Rosenthal, the founder of the firm, will work tirelessly to ensure that his clients obtain the justice they deserve and that they have the best chances of resolving their criminal matters as favorably and efficiently as possible. If you or a loved one has been charged with DUI or another criminal offense, you are strongly encouraged to contact the Law Firm of Jeremy Rosenthal by calling (303) 573-0543 for a professional evaluation of your case.
Contact:
The Law Firm of Jeremy Rosenthal
1020 West Seventh Avenue
Denver, CO 80204
(303) 573-0543
http://www.rosenthal-law.net