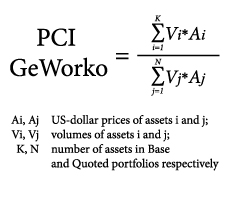 GeWorko method breaks all the limits of financial instruments. Just step into your imagination.
LONDON (PRWEB) June 19, 2013
The concept of portfolio trading method GeWorko is very similar to currency exchange rate, when the value of the base currency is expressed in units of the quoted currency. The difference is that in GeWorko method two portfolios stand for the base and the quoted currencies. The sum of the values of all assets adjusted for their corresponding weights in a portfolio gives an absolute dollar-denominated value for each portfolio. When comparing absolute values of two portfolios (base and quoted respectively), the method calculates a ratio, which is considered to be a "price" of the new composite structure (personal composite instrument – PCI) and can be interpreted as the value of the base portfolio, expressed in units of the quoted portfolio (See the picture).
The value of such approach is, first of all, its flexibility which opens up new horizons for analysis and trading. Moreover it provides traders with an opportunity to create their own unique financial products. Therefore creativity and inventiveness of the trader come out on top and become one of the key factors of success. GeWorko method quickly converts two baskets of assets into an independent trading instrument with its own price and history, and as there are an infinite number of such baskets, infinite number of trading instruments and opportunities become available to the trader. The application of GeWorko method can be extremely useful for a wide variety of investment strategies, including:

Portfolio trading - GeWorko method allows constructing portfolios of assets that best meet investor's individual requirements of acceptable risk and return. Including both long and short positions in the composite instrument leads to a greater benefit from diversification and portfolio optimization.
Spread trading - GeWorko method becomes indispensable in revealing price convergences and divergences for similar assets in deep histories. To implement the strategy, it is enough to build a chart that will display relative changes in prices, their speed and degree of sensitivity to common economic factors.
Trading around an average - GeWorko method is extremely effective for such type of trading, providing historical charts needed to determine longer-term mean-reverting levels and allowing the usage of technical analysis tools to open and close positions.
Hedging – GeWorko method is useful for building portfolios with necessary sensitivity characteristics to certain economic factors.
Whatever the chosen trading strategy is, GeWorko method can be useful not only for traders. It gives considerable opportunities to analysts, economists and portfolio managers for understanding and analyzing interrelations between separate assets and their combinations.
About IFC Markets:
IFC Markets is a brokerage company providing Forex (Foreign Exchange Market) and CFD (contracts for difference) trading and associated services for both individual and corporate clients. http://www.ifcmarkets.com/