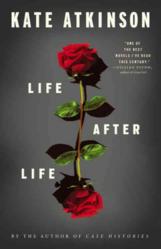 New York, NY (PRWEB) June 18, 2013
British writer Kate Atkinson's new novel Life After Life has already appeared on the shortlist for The Women's Prize for Fiction and is destined to be shortlisted for – if not win – many more literary awards. TheReadingRoom.com picked Life After Life as one of our Best Summer Books of 2013.
Recently TheReadingRoom.com had the opportunity to ask Kate three revealing questions.
In Life After Life, Atkinson's central character Ursula Todd has the chance to live her life over and over again – by dying over and over again. We asked Atkinson what she might do differently if she had the chance to live her life as a writer again. She revealed that having come from an academic background, she was initially fearful of being amateurish. So she wrote for women's magazines, among other things, in an effort to learn her craft. She also said that she 'started late' as a writer – and that she would perhaps change that aspect of her career … but then again maybe not.
When asked which literary character she would love to be if she had the chance, Atkinson chose Jane Austen's Elizabeth Bennet, from Pride and Prejudice. Elizabeth is 'quite the proper heroine', she says, and the character 'transcends time'.
Given that Ursula Todd meets her end time after time, we also asked Atkinson about the sorts of endings she likes to read. Interestingly, she prefers 'symphonic' endings, in which the reader thinks the story has ended but then discovers that it has not. Atkinson finds it difficult to come to a stop in her own books. Life After Life, however, is different. It is 'circular,' she says – and was trying not to end the book.
Atkinson is the author of seven previous novels and one collection of short stories. If you want to see more of her thoughts on the writing process, you can watch TheReadingRoom.com's interview here.
About TheReadingRoom.com
TheReadingRoom.com is the leading independent online portal for avid readers to discover new books. By combining the power of social networking with carefully curated content, recommendations and featured selections, as well as the ability to buy eBooks and print titles readers can now discover books in much the same way they have in the past: from people they know and trust.
With more than seven million book records, TheReadingRoom.com simplifies and personalizes the book selection process by providing readers with both social networking tools, private and public Book Clubs and curatorial expertise to help discover new titles through tailored suggestions. The site also provides reviews and expert critical analysis from the New York Times and The Guardian (London) as well as reviews from TheReadingRoom.com members and respected book bloggers. Membership is free! So join us now at TheReadingRoom.com.