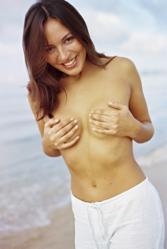 We are catering to men, but the recipes will appeal to both men and women
Houston, Texas (PRWEB) June 18, 2013
In an industry dominated by female readers, Topless Cookbook Publishing is going after the male market. Topless Cookbook mixes recipes with photographs of topless women to create its unique style of gentlemen's cookbook.
The brand is publishing the first book in what will be a series of male-friendly cookbooks. The cookbook features 50 recipes by Chef James Sklar. Sklar attended the California Culinary Academy in San Francisco and is the former owner of Bloom, a restaurant he opened in 2006 in Hastings-on-Hudson, New York. Currently, James is a private chef specializing in Paleo-style seasonal local cuisine and gluten-free baking. Further adding to the "men's" theme, the cookbook's photographer, Elvis Castillo, is also a Ladder Captain with the City of Mesa, Arizona Fire Department.
"Guys love food, but they don't always love to spend time in the kitchen. Our cookbook grabs their attention and helps to make cooking more enjoyable," says Jeff Case, the founder of Topless Cookbook. "We are catering to men, but the recipes will appeal to both men and women." The recipes range from healthy salads, sauces and drinks to gluten-free pancakes, cookies and cakes. Notable dinner recipes include baked spaghetti squash, eggplant lasagna, red snapper ceviche and rock shrimp risotto.
Topless Cookbook plans to offer additional cookbooks and related products in the near future. "The cookbook industry is healthy and growing," said Case. "Industry revenue exceeded $1billion in 2012 and men accounted for 31% of sales."
Topless Cookbook Publishing, located in Houston, Texas, is donating 5% of profits to support breast cancer research. The e-book is priced at $9.99 and the paperback costs $18.99. Those who order the cookbook by August 31st will be entered to win a catered dinner for four by Chef Sklar. For more information, people can visit their website at toplesscookbook.com.