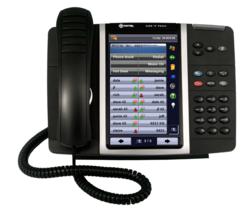 We're finding that as more and more businesses in the US and Canada network their call centers, hotel properties, multiple remote offices, etc., Mitel IP phones are in higher demand
Niagara Falls, New York (PRWEB) June 20, 2013
Sales of Mitel IP phones have pushed past the volume of traditional Mitel digital telephones. Telephone Magic Inc. has been a leader in online sales of Mitel business phones. Jeff Jackson, president of Telephone Magic, indicates that, among the wide variety of business IP phone brands it offers, wholesale purchases of Mitel IP phones have now exceeded that of Mitel Supersets. Jackson says, "We're finding that as more and more businesses in the US and Canada network their call centers, hotel properties, multiple remote offices, etc., Mitel IP phones are in higher demand".
Among the leading Mitel IP telephone lines at Telephone Magic are the feature rich Mitel 5300 Series IP phones, with models such as the popular dual-mode Mitel 5324 IP phone. The 5300 IP series of VoIP phones for Mitel IP-PBX platforms represents the cutting edge in Voice over IP technology.
Sales of the venerable Mitel 5200 IP phones line also remain strong with telephones like the Mitel 5224 IP phone. Packed with all the communication tools business owners and managers expect in a high-end corporate phone, Mitel went further and provided enhanced features with an intuitive user-interface to make these phones very user-friendly.
Mitel Superset phones also remain popular as business users continue to get the most from their legacy Mitel voice switches. Telephones such as the Mitel 4150 Superset, which is perfect for managers, professionals, and contact center agents and supervisors, are top selling models in this category.
Mitel offers a comprehensive line of IP desktop devices – everything from affordable, entry-level phones to sophisticated IP phones and devices with cordless handsets, conference units, and attendant consoles. Designed with ergonomics and modern office esthetics in mind, they give users easy, intuitive access to the feature-rich telephony and advanced desktop applications enabled by Mitel IP Communications Platforms.
Mitel's desktop IP phones are tailored to the needs of the people who use them, whatever their role or location. Whether a business needs to meet the messaging needs of executives, keep front-line personnel in touch anywhere and anytime, or deploy teleworking, collaboration, web conferencing, or other productivity-enhancing communications technology, Mitel business IP telephones provide managers with better, smarter ways to work with colleagues, customers, and business partners.
Mitel IP phones also improve workday efficiency as employees are accessible and able to respond immediately to the needs of others through real-time communication methods. Mitel IP telephones also allow for a more connected workforce. Whatever their role, wherever they are, workers stay connected to each other, and to partners and customers.
As an independent wholesale supplier of Mitel IP phone products, Telephone Magic will source just about any Mitel item you need to compliment your existing telephony network. Jackson makes it clear: "Our goal is to offer superior customer service. This means if you don't see it on our website, we usually still have it in stock, but if we don't, we'll source it for you immediately. This means if you require Mitel phone system cards, your personal Telephone Magic representative will ensure quick delivery of the equipment you require."
Jackson continues "As we move further into the converged telephone network era, phone systems and hardware that once seemed out of reach to small and medium sized businesses is becoming far more cost effective. The resulting increase of Mitel IP phone sales will be dramatic. As we approach our 25th anniversary, Telephone Magic has long been an established global leader in online sales of Mitel business telephone system cards and hardware, digital and IP phones, and specialty telecom products. We feel we are uniquely positioned to capture a substantial amount of the current and future wholesale market in these products."
About Telephone Magic Inc.
Telephone Magic Inc. is a 24+ year old wholesale distributor of business phone equipment, specializing in Mitel PBX phone system cards, Mitel digital and IP phones, Superset telephones, Plantronics phone headsets for Mitel telephones, and much more.