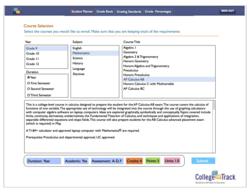 These modules make class selection and education progress easy to understand, increasing student success rates.
Palo Alto, CA (PRWEB) June 19, 2013
High schools often publish their course catalogs as static pages of class descriptions. Students and parents then try to match available classes to graduation and college admissions requirements, and schedule the courses over four years. It's a high-stakes process with room for error. One top-rated high school has a 58-page guide on course details and selection. No wonder that some 12th grade students find they've made mistakes and are missing courses for graduation, or don't meet the entrance requirements of colleges they're interested in.
CollegeOnTrack is streamlining the course publication and selection process with two new modules inside its education planning ecosystem.
The Course Catalog lets teachers collaboratively define course descriptions and prerequisites. It then sorts and shows courses by grade level, subject, and honors/regular classification. The data feeds into the Student Planner, which students and parents use to plan their classes.
The Student Planner has columns for school years and rows for subject areas, with graduation and local college entrance requirements as well. It shows what classes a student has taken, and what slots are available to fill the remaining requirements.
Students identify course areas, such as 11th Grade Language Arts, then use the Course Selection page to see what courses they can choose from, with descriptions for each. As they make selections, their classes populate the Student Planner grid. They can easily see how the classes they've taken, and those they intend to take, compare to graduation requirements and local college entrance requirements.
If a student's grade drops below a pre-determined level in any class critical for graduation, that cell turns red, warning that the class will have to be repeated or replaced with something else that meets the requirements. Marketing V.P. Phil Roybal says, "These modules make class selection and education progress easy to understand, increasing student success rates."
As students select their classes, data accumulates in reports administrators use to balance teacher loads, beef up popular classes, and pare those which don't attract students.
CollegeOnTrack is introducing these capabilities as a new Student Planner app, available to its subscribers at no additional cost. The company will be demonstrating the new software in booth #3058 at the National Charter Schools Conference, coming to Washington, D.C. at the end of June.
About CollegeOnTrack 
CollegeOnTrack is a web-based system that enriches the learning experience in middle and high school as it prepares students for college and successful careers. It offers a combination of rich digital portfolios, collaboration support, and task management that helps students build a mindset of success. Administrative modules help educators keep students in school and on track for graduation and college applications.
For more information about this topic, or to schedule an interview, contact Philip Roybal at (408) 782-4244, or phil(at)collegeontrack(dot)com.