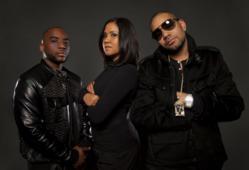 Boston, MA (PRWEB) June 18, 2013
Online retailer and media powerhouse, Karmaloop.com, and Power 105.1 have teamed up to launch the Karmaloop Studio at Power 105.1. The Breakfast Club, the world's most dangerous morning show featuring hosts Charlamagne Tha God, Angela Yee and DJ Envy, will broadcast live weekday mornings from the Karmaloop Studio at Power 105.1 in New York City from 6-10:00 a.m.
The Breakfast Club, one of the country's most popular and highest-rated morning shows, features segments such as Ask Yee, Breakfast Club Co-Sign, Donkey of the Day, Hoe Appreciation and The Freezer, as well as unforgettable interviews and exclusive, weekly mixes curated by DJ Envy. The Karmaloop Studio sponsorship includes naming mentions on Power 105.1; a complete redesign of the studio in New York City with Power 105.1 and Karmaloop branding throughout, as well as Karmaloop-specific styling of the hosts with customer-favorite and industry-leading brands such as 10 Deep, Crooks & Castles, Obey, Staple Design and more represented each day of the week.
Fans can listen to Power 105.1 from the Karmaloop Studio on the station's website, power1051fm.com, as well as on iHeartRadio.com and the iHeartRadio mobile app, Clear Channel's all-in-one free digital listening service. iHeartRadio delivers everything listeners want in one free, fully-integrated service: instant access to more than 1,500 of the nation's most popular live broadcast and digital-only radio stations from 150 cities, plus user-created custom stations inspired by favorite artists and songs. iHeartRadio also offers listeners a new "Perfect For" feature which allows users to choose from thousands of curated stations based on a range of moods and activities.