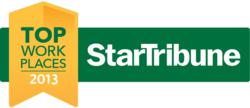 The contribution of each Loffler employee is what enables us to exceed expectations on every level for our clients, our partners, and the community."-- Jim Loffler, President and CEO
Minneapolis, MN (PRWEB) June 18, 2013
Loffler Companies, the leading office technology and services provider in the upper Midwest, has been named one of the Top Workplaces in Minnesota based on an employee-based survey from the Star Tribune. The Star Tribune Top Workplaces special section was published in the Star Tribune on Sunday, June 16, and can be found online at http://www.startribune.com/jobs/topworkplaces/.
Top workplaces are recognized as the most progressive companies in Minnesota based on employee opinions about company leadership, communication, career opportunities, workplace environment, managerial skills, pay and benefits. Results were based solely on survey feedback from Loffler team members.
"Our most critical asset is our employees," said Jim Loffler, CEO and president of Loffler Companies. "The contribution of each Loffler employee is what enables us to exceed expectations on every level for our clients, our partners, and the community. We are very honored to receive this award from the Star Tribune."
Loffler is a unique leader in supporting clients in the effective implementation of business technology and service solutions with its knowledgeable and dedicated team of IT and Document Workflow professionals. Its offerings include multifunctional copiers, printers, managed print services, IP telephone systems, IT managed services, document management, dictation, call recorders, and on-site managed services. Loffler Companies partners with leading brands such as Canon, Konica Minolta, Toshiba, HP, Lexmark, Océ, NEC and ShoreTel.
"By providing the best set of technology and services solution to meet a client's unique requirements, we can improve a client's productivity and their bottom line. Match that with the best and brightest employees in the industry, and it's a win-win combination," adds Don Tremblay, vice president and general manager.
Star Tribune publisher Michael J. Klingensmith said, "The companies in the Star Tribune Top Workplaces deserve high praise for creating the very best work environments in the state of Minnesota. My congratulations to each of these exceptional companies."
Star Tribune Top Workplaces were selected from the results of employee surveys conducted by WorkplaceDynamics, an independent company that measures organizational health, job expectations and employee engagement. To qualify for the Star Tribune Top Workplaces, a company must have more than 50 employees in Minnesota.
About Loffler Companies
Founded in 1986 by local entrepreneur Jim Loffler, Loffler Companies provides office technology and services to improve a client's productivity and bottom line results. Today, Loffler has 330 employees supporting clients in Minnesota and Western Wisconsin that are local, national, and international in scope. Loffler is recognized as one of the top 15 office technology and services dealers in the country, and among the top in the nation for service and support. For more information about Loffler Companies and how it can help your organization succeed, please call 952-925-6800 or visit http://www.loffler.com.