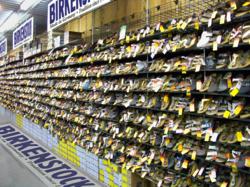 Birkenstock sales are crazy this year.
Ottawa, ON (PRWEB) June 25, 2013
Birkenstocks have been a best seller for the past 25 years allowing Apple Saddlery staff to witness firsthand the rise in sales of footwear from the 240-year-old German company.
Each new season has always brought with it an increase in Birkenstock customers, but with Spring 2013 showing Birkenstocks on runways and in fashion magazines like "Vogue Paris", growth of sales is off the charts. Although it is footwear designed primarily for orthopedic support and function, it is not shocking to see the fashion starting to catch on, especially with some of the funky colours and fun designs available now.
Of course, making the list of "supermodel must haves" hasn't affected Birkenstock quality and orthopedic design, and people in the "know" don't believe that Birkenstocks will just be another trend. The contoured cork footbed complete with deep heel cup and ample toe room provides a level of foot support that few people are willing to give up once they have experienced it.
"Birkenstock sales are crazy this year," says Paul Fowler, owner of Apple Saddlery. "It's cool to see such a huge increase in demand, and we don't expect a crash to follow. We stock Canada's largest selection of Birkenstocks. We can stand confidently behind the brand because we have watched sales grow season after season for decades without exception. We know these shoes inside out and we believe in them. People who start wearing Birkenstocks simply do not stop because nothing else compares."
"Birkenstock sales are really on the rise this spring," says Scott Keirstead, General Manager of Apple Saddlery. "We frequently sell two or three pairs to one customer because they want Birkenstock comfort and support to match multiple outfits, or they like to keep an indoor pair and an outdoor pair," adds Keirstead.
Spring 2013 Birkenstock styles range from the most well known two strap Arizona and thong style Gizeh sandals to leather clogs, with colour choices covering an even broader spectrum. If brown is your colour, you will certainly find something to tickle your fancy, but they also have a huge variety of solid colours and something for customers in search of polka dots, stripes, floral patterns, cherries or even those chasing a little bling around their toes.
Apple Saddlery is located on Innes road in the East end of Ottawa and easily identified by the livestock that is often grazing in the front yard. Once inside the store, prepare to be overwhelmed by the "Great Wall of Birkenstocks".
Apple Saddlery has been operating as Canada's Outdoor and Equestrian Superstore since 1972. The store can be found at 1875 Innes road in Ottawa, contacted at 1-800-867-8225 or visited online at http://www.applesaddlery.com.