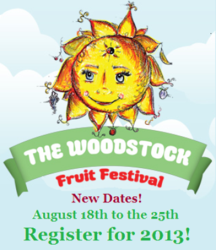 The Festival would like to honor Mr. Blake's affinity for a fruit based diet, and we invite him to be our guest of honor at our 2013 event.
New York, NY (PRWEB) June 17, 2013
The Woodstock Fruit Festival is proud to extend an invitation to Yohan Blake to attend the Festival this summer, which will be held in Diamond Point, New York from Sunday, August 18th through Sunday, August 25th.
Blake professes the benefits he's received by regularly eating up to 30 bananas a day to fuel his world class sprinting abilities. Fruit is commonly considered health food, but Mr. Blake's large volume of fruit is drawing attention. "Yohan Blake believes in the power of natural foods, and the results speak for themselves. We commend him for not selling out to a supplement or fast food company for sponsorship. His honesty about eating fruit as a large percent of his athletic fuel proves his integrity beyond words. We couldn't hope for a better endorsement of what mother nature's food can do for peak health and wellness. The Festival would like to honor Mr. Blake's affinity for a fruit based diet, and we invite him to be our guest of honor at our 2013 event," says Michael Arnstein, founder of the Woodstock Fruit Festival.
Blake may best be known as a fast sprinter, but he also recognizes the importance of eating healthy in order to perform at top levels. He got into the habit of eating many bananas when he was young and continued to do so when he started competing. Arnstein also believes in the same message of eating healthy in order to feel your best. He created this Festival with the intention of bringing people together so that they could learn about eating a healthful diet and form long-lasting friendships. "The Woodstock Fruit Festival is a fantastic way to learn about the benefits of eating a predominantly fruit-based diet through lectures, discussions and food prep classes, among other activities. We think that Mr. Blake would benefit greatly by attending the Festival this August, and we know that he could share what he has learned with us as well. We would be thrilled if he came to the event!" states Kristina Peduto, Marketing and Public Relations Specialist for The Woodstock Fruit Festival. Arnstein's efforts are paying off, as the Festival continues to grow bigger year after year. The Festival is now is its third year with the largest group of attendees projected at over 700.
The Woodstock Fruit Festival strives to address the many health advantages of eating fruit-based as well as environmental benefits. The festival strongly believes that one of the best things you can do for your own health and the health of the Planet is to eat more fruit! Some of the speakers for the 2013 festival include well known raw vegan athletes, and health pioneers: best-selling health author Dr. Douglas N. Graham, champion trail runner Tim Van Orden, founders of one of the popular raw food websites 30BananasADay.com, YouTube favorite Dan 'The Man' McDonald, Tony Wright who is an author in the evolutionary scientific community, internationally-published fruitarian author Anne Osborne, and expert on children's diet and nutrition Karen Ranzi. Festival speaker and 30+ year veteran fruitarian gymnast Robert Lockhart says, "We live in a world where the human form is taking on ever-increasing dimensions and obesity, heart disease, and cancer rates are growing at alarming rates. The need for a healthy, ethical, and sustainable diet has never been higher. If you want to die young but as late as possible, embrace the Fruitarian Lifestyle!"