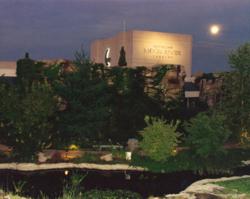 Daniel gets better every time I see his show.
Branson, MO (PRWEB) June 17, 2013
The Andy Williams Moon River Theatre Home of World Class Entertainers
Andy Williams Christmas Show—The legacy continues starring The Osmonds and The Lennon Sisters plus all the features that made Andy's show so great…great variety, singers, dancers, prancing reindeer, penguins plus the Moon River Orchestra…all performing your favorite holiday songs. Plus a great tribute to Andy, the man who launched the careers of these two great performing families. Don't miss this show. (November-December)
Moon River Weekends will include World Class Entertainers performing every Friday and Saturday. Exciting lineup of stars scheduled to appear to be announced soon. Keep checking bransonticket.com for latest concert updates. (September-October)
Daniel O'Donnell is an international star that has become one of the most successful entertainers in Branson, nearly selling out every performance. Teaming up with Mary Duff, Ireland's top female vocalist, you'll get a blend of traditional Irish ballads, country favorites and gospel with an Irish twist. Don't miss this festive International show. (November through December)
The Cat's Pajamas Vocal Band—This a capella vocal band as seen on NBC's "the sing off" delivers a performance that will have you "purring" with excitement. Voted Best Group 2011 and 2012, these vocalists will wow everyone with their charm and win people over with their showmanship. No instruments necessary—they only use their voices. (March through December)
Oh What a Night! The first and original musical tribute to Frankie Valli and The Four Seasons, direct from Vegas. Featuring songs such as Sherry, Big Girls Don't Cry, Grease and many others. This male quartet harmonizes like you won't believe. Returning in Spring and Fall of 2013.
The Liverpool Legends—Celebrate the 50th Anniversary of The Beatles with Liverpool Legends "The Complete Beatles Experience!" See the Grammy nominated Liverpool Legends like you've never seen them before, in all-new full production Beatles extravaganza. Liverpool Legends were handpicked by George Harrison's sister Louise to recreate the band that changed the face of music and the world forever. (June-August)
Click here to purchase show tickets.
1-800-432-4202