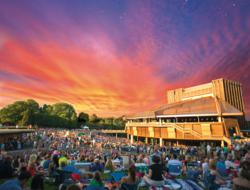 Vienna, Virginia (PRWEB) June 17, 2013
Pink Martini
Monday, July 1, 2013 at 8 p.m.
$28-$45
Pink Martini is an eclectic 12-piece "little orchestra" whose multilingual, cross-genre songs have given it mass appeal and success all over the world. Founded by pianist Thomas Lauderdale in 1994, Pink Martini is a mix of world, classical, jazz, pop, and everything in between. The band has performed with more than 50 international orchestras and has sold over 2.5 million albums. Pink Martini has released numerous albums including Sympathique (1997), Joy to the World (2010), and most recently, 1969 (2011), a collaborative album with Japanese recording artist Saori Yuki, which went platinum in Japan.
Video: Pink Martini – Let's Never Stop Falling In Love
BUDDY – The Buddy Holly Story
Tuesday, July 2, 2013 at 8 pm
Wednesday, July 3, 2013 at 8 pm
$25-$48
It only took Charles Hardin "Buddy" Holly three years to change music and to become the top recording artist in the world before he tragically died in a plane crash on February 3, 1959. BUDDY – The Buddy Holly Story tells the world how he did it all in the form of a musical which comes to life on the Filene Center stage. Since debuting on London's West End in 1989, more than 20 million people worldwide have seen this rockin' musical that features 20 songs by Holly, including "Peggy Sue" and "That'll Be the Day," as well as songs by Chuck Berry and Ritchie Valens, including "La Bamba."
Video: The Buddy Holly Story trailer – North America
An Evening with Harry Connick, Jr.
Friday, July 5, 2013 at 8 pm
$35-$65
Tony-nominated, multi-talented winner of three Grammys and two Emmys, Harry Connick, Jr. brings his New Orleans-inspired jazz, swing, and pop music to the Filene Center. Born in New Orleans, Connick has been performing ever since he was five. When he was 19, he released his first album, followed a year later by the multi-platinum soundtrack for When Harry Met Sally in 1989, which led to his rise in stardom. After Hurricane Katrina, Connick partnered with Branford Marsalis and Habitat for Humanity to create the Musicians' Village for New Orleans residents who were displaced during the hurricane. His newest release, 2013's What Every Man Should Know, is a collection of original songs that touch on some of Connick's deepest feelings about life and love.
Video: Harry Connick, Jr. – Sweet Georgia Brown (Live)
An Evening with Doobie Brothers
Saturday, July 6, 2013 at 8 pm
$25-$42
The beloved, classic rock band the Doobie Brothers—who spurred multi-platinum and No. 1 hits such as "What a Fool Believes," "Real Love," and "Black Water"—brings their California-influenced sound to the Filene Center. Formed in San Jose in 1970, the Doobie Brothers have sold more than 40 million records and were inducted into The Vocal Group Hall of Fame in 2004. The band's sold-out 2004 performance at the Filene Center was recorded and released as Live at Wolf Trap. Most recently, they released World Gone Crazy (2010).
Video: Doobie Brothers Live at Wolf Trap – Takin It to the Streets
Golden Dragon Acrobats from China
Sunday, July 7, 2013 at 2 pm
$20-$38
Fantastic balancing acts, juggling, acrobatics, and more will take place at Wolf Trap when the Golden Acrobats from China grace the Filene Center stage. Widely considered to be the premier Chinese acrobatic touring company, the Golden Acrobats from China have not only traveled in the United States for the last 35 years, visiting every state, but have also performed in 65 countries on five continents. The art of Chinese acrobatics began more than 2,000 years ago and has been used for both entertainment purposes and as a form of cultural exchange between the Chinese and the Western world. In 2005, the troupe made their Broadway debut to a sold-out audience and over their six-week run they garnered both critical and popular acclaim, as well as two New York Drama Desk nominations.
Video: Golden Dragon Acrobats preview
Tickets can be purchased by calling 1 (877) WOLFTRAP or online at http://www.wolftrap.org. For more information, call Wolf Trap at (703) 255-1868.
High-resolution images of the artists listed are available on Wolf Trap's website: http://www.wolftrap.org/Media_and_Newsroom/Photos_for_Publication.aspx.
Wolf Trap is Metro accessible!
Our environmentally friendly Wolf Trap Express Bus travels from the West Falls Church Metro stop every 20 minutes starting two hours prior to show time. For details, please visit http://www.wolftrap.org/Plan_Your_Visit/Access_by_Metro.aspx.