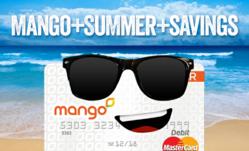 Mango® Shares 8 Ways To Save This Summer
Austin, Texas (PRWEB) June 18, 2013
Mango Money, financial services company with a mission to help under-banked customers across America manage their money more efficiently, has created eight ways to save money this summer.
Summertime often means big spending. There are vacations, summer camps, swimming lessons, and let's not forget about that A.C. bill. But aside from saving money on keeping cool, there are also other ways to keep your spending to a minimum while still having fun.
Here are 8 ways to save this summer season:
1). Grow your own food. Let Mango break it down for you: a home veggie garden will result in a 1 to 25 cost-savings ratio. So you could spend a total of $50 on seeds and fertilizer, or about $1,250 on groceries from the store. Plus, it's a great way to enjoy the summer sunshine.
2). Plan a staycation. In the US, the average family of four will spend about $1,000 on their vacation this year. Save some money and plan a "vacation at home." Check out attractions in your own city; act like a tourist; go swimming; visit museums; or even just relax at home or at the park. A vacation doesn't have to mean travel or big spending; it can simply mean taking some time for yourself and your family.
3). Get creative with summer camps. Sending the little ones off to summer camp seems like the thing to do—but it can also be the most expensive activity of the summer. Get creative by checking out your local rec or community center or your local YMCA. Lots of organizations, zoos, and even museums often run affordable summer camps for kids.
4). Turn down your hot water. This is something we don't often think about, but it can save you a good amount of money over the summer! According to the USDE, we spend about $310 to $400 or more each year heating water for our homes. During the summer, though, how many of us are eager to step into a steaming hot shower? So turn it down, even just a little. It's likely you won't even feel the difference—except for all that money you'll be saving.
5). Make your own personal care products. According to the Department of Labor's latest survey, the average family spends about $526 each year on "personal care" products (shampoo, moisturizer, face wash, etc.) But you can easily make your own resulting in A) Less money spent, B) A fun, new hobby, and C) delightfully smooth skin. Check out the Mango Money post on saving on personal care items and creating your own.
6). Water carefully. According to CBS, Americans are the world's biggest water users, and about 50-70% of that water used is on landscaping. Something you might consider is xeriscaping your yard, which basically just means using plants that don't require much water. If this isn't your thing, try watering your yard at night or early in the morning before the sun comes up.
7). Save on movies. Summer is a time of big blockbuster movies, but these trips to the theater don't have to be expensive. Save by catching the movie during the day for a lower price and bring in your own snacks. Not only will your goodies undoubtedly be healthier but you'll also spend about $5 less per person. Just be sure to stick them in a purse or bag when you bring them in. Want to save even more? Check out some of the DVDs available for free at your local library.
8). Ditch the cable. I know this might sound insane to some of you, maybe especially those with kids home from school for the summer. Canceling cable saves you a lot of money and frees up time, allowing you to truly enjoy the summer weather. Save money, have fun, and cancel your cable.
Want to make the money you saved work for you? Open a Mango Money account. Each account comes with a free savings account offering up to 6.00% APY, that is 45x higher than the national average. That is summers savings with a kick.
Learn more money saving tips at the Mango Money Blog.
Do you want the freedom to manage your money on the go? Get the Mango Money app, Mango On The Go. iPhone users can download the app by visiting iTunes. Android phone users can download the app by visiting the Google Play Store.
To learn more about Mango, visit http://www.mangomoney.com. To learn more about Rêv, visit http://www.revworldwide.com.
About Rêv Worldwide
Dedicated to driving widespread commercial availability of innovative financial services around the world, Rêv Worldwide helps partners rapidly and effectively access hard-to-reach markets enabling consumers to make affordable, safe and convenient financial transactions. Rêv's full range of integrated mobile and prepaid debit solutions – including Rêv-branded, co-branded and affinity payment products – are issued by banks, powered by its multi-language, multi-currency processing platform, and delivered by partners and directly to consumers through its growing global retail, online and mobile networks. Rêv is headquartered in Austin, Texas and operates in North America, Latin America, Europe and Asia-Pacific, and is a member of the MPOWER Ventures investment portfolio. Learn more at http://www.revworldwide.com.
Media Contact:
Rêv Worldwide
Jason Jepson
+9493947033
jason(dot)jepson(at)revworldwide(dot)com