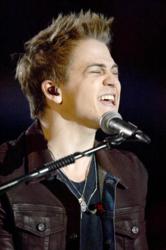 Denver, CO (PRWEB) June 18, 2013
Like the title to his first Country hit "Storm Warning", Hunter Hayes has burst on to the music scene almost out of nowhere. But wait.
The Bayou-born singer also plays seven instruments. He began his music career at two years old. At four, he was singing on Maury, Rosie O'Donnell and Nickelodeon. By age seven, he was invited to perform at the White House. He opened for Taylor Swift in 2011 and Carrie Underwood in 2012.
In early 2013, he picked up three Grammy nominations including Best New Artist, the youngest Country artist ever to do so. Now, at 22, he's on his latest tour in support of his debut album's fourth hit single "I Want Crazy".
It's a 24-show swing of 21 major cities across America's heartland set for this Fall, with the highly-acclaimed Country singer-songwriter Ashley Monroe in tow.
The trek is set to open at the Knoxville Civic Auditorium in Knoxville, Tennessee on October 10 and wrap with a two-night gig at The Midland by AMC in Kansas City, Missouri on December 6 and 7, 2013.
"Hunter Hayes is already very well-known, after his success as an early talent and opening act for numerous top name artists such as Taylor Swift, Carrie Underwood, Jason Mraz, Rascal Flatts, Victoria Justice and others," said Felina Martinez at online ticket marketplace BuyAnySeat.com.
"That's why we're proud to offer fans the most complete and continually updated listing of concert tickets online, with a worry-free guarantee to protect their purchase," said Martinez.
"To access the selection of cheap Hunter Hayes tickets we have available, fans can go to BuyAnySeat.com and search for Hunter Hayes – then select their tickets," said Martinez.
After opening in Knoxville, the singer performs in Savannah and Atlanta, Georgia before heading on to Nashville, Tenn.; Muncie, Indiana; Chicago, Illinois; Louisville, Kentucky; Birmingham, Alabama; Greensboro, North Carolina; Evansville, Indiana; and Cleveland, Ohio.
Next are stops in Detroit, Michigan; St. Louis, Missouri; Sioux City, Iowa; Omaha, Nebraska; Lafayette, Louisiana; Dallas, Texas; Tulsa, Oklahoma; and Minneapolis, Minnesota.
Before his tour, the singer is set to perform at Webster Hall in New York on June 18; Country Fest in Cadott, Wisconsin on June 27 and 28; Pennvsaver Amphitheatre in Selden, New York on July 5; the Oakdale Theatre in Wallingford, Conn. on July 6; Porter County Fairgrounds in Valparaiso, Indiana on July 18.
The artist then shows at the Fraze Pavilion in Kettering, Ohio on July 23; MBT Expo Center in Monroe on July 28 and Clare County Fairgrounds in Harrison, Michigan on July 29; and the Pacific Amphitheatre in Costa Mesa on August 4 and Sonoma County Fairgrounds in Santa Rosa, California on August 6.
As per press notes, Hayes will perform a full set of fan favorites, including his various platinum, gold and Number One hit singles, "Storm Warning", "Wanted", and "Somebody's Heartbreak". "I Want Crazy", his fourth single, was released to country radio on in April of this year.
His debut album was released in October of 2011. Hayes wrote every song and played every instrument on the album. In addition to vocals, the artist has also mastered the accordion, guitar, mandolin, keyboards, bass guitar, piano and drums.
To shop for cheap Hunter Hayes tickets, visit BuyAnySeat.com.
About BuyAnySeat.com: An online ticket marketplace, BuyAnySeat.com connects sports, theater and other live entertainment fans to an extensive worldwide network of ticket sellers. The site's simplified listings and navigational tools enable fans to easily locate, compare and purchase inexpensive, discounted or lower-priced tickets to virtually all advertised sports and entertainment events around the globe.
The marketplace, which is PCI-compliant and Norton Secured, also provides customers with a complete Worry-Free Guarantee on all ticket purchases. Based in Denver, Colorado, BuyAnySeat.com is a subsidiary of Denver Media Holdings. For more information, please visit http://buyanyseat.com.