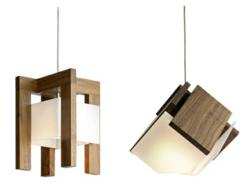 LED lighting, elevated to a new level of elegance and sophistication.
Los Angeles, CA (PRWEB) June 19, 2013
In a continuation of its partnership with industrial design and manufacturing company Cerno, California-based modern lighting and decor shopping site Euro Style Lighting announces the addition of two new Cerno LED pendant lights to the site's extensive high-design product suite. Designed and handmade by Cerno in California, the new Mica and Laurus pendants will make their West Coast debut at Dwell on Design, a three-day modern design show, and are currently available at EuroStyleLighting.com, the first US retailer to carry the new designs.
"We strive to offer our customers the best selection of contemporary lighting options for the home," states Cori Magee, In-house Design Expert with Euro Style Lighting. "Cerno elevates LED lighting to a new level of elegance and sophistication, offering a fresh take on energy-efficient lighting for the modern abode. We're thrilled to add these new LED pendant lights to our growing collection of Cerno products."
The Cerno Mica is an oiled walnut framed cube with a frosted shade that offers an ambient glow. The light has a crisp modern elegance that fuses form and function seamlessly. Neither the integrity of the form or the quality of light are compromised. The pendant will retail for $315.
The Cerno Laurus is an eco-friendly light that blends an earthy oiled walnut finish with clean, modern lines and is made with energy efficient LEDs. The pendant will retail for $265.
"Nothing excites us more than sharing new products with our customers. The Mica and Laurus embrace Cerno's ethos," said Cerno Co-Founder Bret Englander. "These pendants are minimalist yet extremely sophisticated, because they use cutting edge LED technology."
Edward Moffett, Internet Marketing Manager for Euro Style Lighting, concurs: "EuroStyleLighting.com is proud to carry a wide range of Cerno lighting designs and applauds their ongoing leadership in lighting technology, energy efficiency and aesthetics. LED is the greenest lighting option on the market today. And because all Cerno designs are handmade in California rather than imported from Europe or Asia, the consumer's carbon footprint is further reduced."
The new LED pendant lights and other Cerno designs will be on view at Dwell on Design at booth 709, June 21-23 at the Los Angeles Convention Center. The Mica and Laurus, as well as more than two dozen other Cerno designs, are available for purchase online at EuroStyleLighting.com.
About Euro Style Lighting
Los Angeles based Euro Style Lighting is an online retailer specializing in contemporary lighting for the home. The company also offers furniture and home decor, ranging from today's newest designs to ultramodern style. The Euro Style Lighting buying team sources fashion forward designs from across the globe to offer customers a collection of competitively priced products that emphasize aesthetic value, quality and – with a growing selection of LED and fluorescent lights – energy efficiency. Featured designers include Possini Lighting, Karim Rashid, Holtkoetter, Robert Sonneman, Jonathan Adler and more.
About Cerno
Established in 2009, Cerno is an industrial design and manufacturing company innovating modern LED lighting fixtures in Southern California. Cerno's mission is to fuse quality, performance and resource efficiency with modern design.