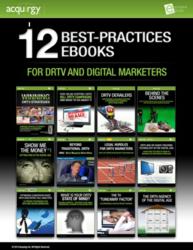 St. Petersburg, FL (PRWEB) June 19, 2013
Customer acquisition agency acquirgy announces the publication of one giant eBook containing 12 best practices ebooks published over the last year. Covering a wide range of topics, and many co-published with leading industry vendors, this eBook collection is a must for any DRTV or digital marketer. Contents:
WINNING DRTV STRATEGIES – HOOVER
19 strategies that propelled Hoover infomercials to dramatic success
HOW ONLINE SHOPPING CARTS KILL DRTV CAMPAIGNS
Learn what you can do to deal with high shopping cart abandonment rates. With SeeWhy.
DRTV DERAILERS
Learn how to avoid numerous Internet-age issues that can easily derail the most promising DRTV campaign.
BEHIND THE SCENES
Find out exactly what it takes to craft a outrageously successful DRTV campaign, supported by search and other digital strategies.
SHOW ME THE MONEY #1
This eBook explains the ins and outs of merchant accounts, providing strategies
to increase sales volume and avoid major business interruptions. With Swipe Payment Solutions.
BEYOND TRADITIONAL DRTV
DROV: Direct Response Online Video TV Is Changing And So Must DRTV. With This Is TV.
LEGAL HURDLES FOR DRTV MARKETERS
Don't get tripped up on the way to the finish line plus DRTV Product Checklist. With Manatt, Phelps & Phillips, LLP
DRTV and DR-RADIO Tracking Technology in the Digital Age
Everything You Need to Know to Maximize ROI and Reduce Workload. With Nielsen.
OPTIMIZING CONVERSION RATES WITH QUALITATIVE CALL ANALYTICS
10 proven techniques for DRTV and online marketers dramatically enhance sales, revenues and profits. With LOGMyCalls.
WHAT IS YOUR DRTV STATE OF MIND?196
We analyze 7 different scenarios of how you're thinking about DRTV – and present the key facts you need to know.
THE "TV TUNEAWAY" FACTOR
Learn how and why shooting and airing your short- or long-form in High Definition is one way to increase response. With Treehouse Media.
THE DRTV AGENCY OF THE DIGITAL AGE
Today's DRTV campaigns are closely intertwined with web sites, search engine marketing programs, social networks and more, today's DRTV agency needs to be tech savvy in order to execute programs with changes made in real-time.
This ebook can be obtained here: http://12EB2.acquirgy.net
About Acquirgy
Acquirgy (http://www.acquirgy.com) is an Acquisition Marketing Agency developing and executing accountable marketing programs driven by immediate and measurable response metrics across all digital and traditional platforms. Proprietary tracking systems integrate all transactional media, logistic and response data from all platforms to optimize client profitability. Acquirgy's CustomerAcquisition IntelCenter (http://www.acquirgy.com/intel) offers 100+ papers, briefs, ebooks and more on proven best-practices tactics and strategies.