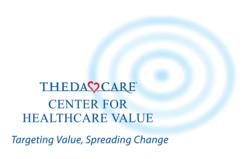 Appleton, WI (PRWEB) June 17, 2013
Nearly 600 healthcare leaders gathered in Orlando earlier this month for the 4th Annual Lean Healthcare Transformation Summit, hosted by the ThedaCare Center for Healthcare Value and the Lean Enterprise Institute. The two-day conference featured several keynotes, a CEO panel discussion and breakout sessions on a variety of lean topics related to healthcare delivery, payment and transparency. Attendees also enjoyed a welcome reception and luncheon roundtables.
"The conference was very enjoyable and informative," said Henry Parente, Quality Improvement Program Manager at Children's Mercy Hospital. "The keynote speakers were outstanding and there were many opportunities throughout the conference to network with other Lean healthcare professionals."
This year's Summit was the best attended yet, with participants from eight countries, 39 states, and 181 healthcare organizations. The Healthcare Value Network had a total of 210 members in attendance from 58 member organizations.
Keynote speakers
The keynote presentations featured industry leaders who shared their experiences and expertise:

John Toussaint, MD, CEO emeritus of ThedaCare and CEO of the ThedaCare Center for Healthcare Value, discussed the need to implement a management by process system. "The single most important thing missing in healthcare today is a management system that supports improvement," he said. "We need passion and a revival mentality to transform this industry."
Francois de Brantes, executive director of the Health Care Incentives Improvement Institute, outlined the massive variation in price and outcomes of medical care in the United States. "Transparency of variation is important because it can lead to improvement and help providers identify where to focus their change," he said.
Paul O'Neill, founder of Value Capture, LLC, former CEO of Alcoa and former U.S. Secretary of the Treasury, challenged audience members to focus their attention on employees and, specifically, employee safety.
Alan Gleghorn, CEO of Christie Clinic, a Healthcare Value Network member, shared his experience of applying lean at Christie Clinic, and how he strives to adhere to the traits and behaviors of a lean CEO. "We need to change the system of leadership," he said. "Building systems is really about leaders learning to let go."
That message resonated with attendees. "It was like talking to a friend or a co-worker," one participant said of Gleghorn's presentation. "He is so down to earth and real."
Jim Womack, founder and senior advisor of the Lean Enterprise Institute, described the purpose of lean healthcare and the management principles needed to make it work.
CEO Panel
Day two of the Summit featured a CEO panel of top leaders from three health systems across the United States and Canada:
Alan Aviles, president and CEO of the New York City Health and Hospital Corporation
Henry Hawthorne, CEO of Columbus Regional Healthcare System
Don Shilton, president of St. Mary's General Hospital in Kitchener, Ontario
Noting the importance of lean healthcare improvements, they offered advice and examples on engaging board members and C-suite leaders in lean transformations and discussed the current state of transparency and how lean principles can support payment reform.
"The quest for better care is universal across the world," Shilton said. "Lean puts us in a position to be driving change and doing it for the right reasons."
Breakout Sessions
Summit participants also took part in learning sessions on topics like:
o Healthcare business intelligence
o Managing in a Takt environment
o Leveraging information to improve patient care
o Payment reform experiments in Wisconsin
o Perfecting patient journeys
o Lean framework for strategic planning and execution
o Business performance system
o Patient-centered care
To get a better glimpse inside this year's Summit, read our blog post, review the Twitter feed, or enjoy these recaps from attendees:
Visit http://www.createvalue.org for additional learning materials. Next year's summit is scheduled for June 4-5, 2014. Mark your calendars and watch for details in coming months.
ThedaCare Center for Healthcare Value
The ThedaCare Center for Healthcare Value is transforming the healthcare industry to deliver higher value through experiments, collaboration and education that integrate three interdependent components: delivery, transparency and payment. In these areas, the Center spreads learning and accelerates improvement. Learn more at: http://www.createvalue.org.