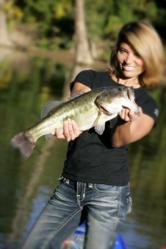 This series is extremely informative, giving those who watch an advantage over their competition.
Yankton, South Dakota (PRWEB) June 18, 2013
The BASS Elite Series pros will be competing for a $100,000 first-place prize, as well as a 2014 Bassmaster Classic berth and chance to be crowned Classic Champion. In addition, the coveted Angler of the Year title, based upon all regular season events, will be narrowed down to just a select few individuals, barring any heroics, with just three events left.
The Exposed crew will be filming for its upcoming 3rd season at the event and will be highlighting the top names in the sport. Present will be Exposed co-host, country singer and professional angler, Sondra Rankin. Rankin enters her third year as co-host of this series and comments: "Exposed is an outstanding series that digs in deeper on a pro anglers official practice days. I have been honored to be a co-host of the show and am always excited to see how our pros put together a tournament in only three days. This series is extremely informative, giving those who watch an advantage over their competition."
ProPatterns also plans to pack its 2nd season Exposed DVD with extras from this location, one of only two bodies of water revisited from last season. The 2nd season of Exposed will be available on DVD later this year and includes videos from last year's event at La Crosse with anglers Fletcher Shryock, Yuske Miyasaki and Casey Ashley.
The 2013 Mississippi River Rumble is one of eight Elite events that are a part of ProPatterns Fantasy Fishing series. ProPatterns members and those interested in joining have the opportunity to win prizes, including an exclusive South Dakota pheasant hunt. The contest covers all 8 Elite BASS Pro events. By placing the correct rankings of the ProPatterns' Pro Team members in each tournament, members are eligible to win. There will be FREE prizes available to the highest totals by members during the last three events in celebration of this tournament season. The contest is free to play for all registered members at http://www.propatterns.com.
About ProPatterns, Inc. and Exposed:
ProPatterns, Inc. is a leader of angling education offering a variety of fishing tips and membership services online. Information is gathered from various sources and shared with members in a variety of ways. The Exposed video series, for example, gains all of its integrity from an alignment with the biggest names in the bass fishing industry including professionals who fish with BASS, FLW, and PAA. Cooperation from the anglers and their willingness to share is the catalyst for the growth of this series.
The company is based in Yankton, South Dakota, home of CEO and President Chad Ekroth. Ekroth's background includes a computer science degree and business experience involving several successful startups. When not tending to business, Ekroth spends his time tournament fishing and engaging in other industry relations including a long time commitment to B.A.S.S. Nation as a 25 year member and competitor.
In addition to Exposed the company provides online fishing journals, payday opportunities, sponsorship opportunities, and a variety of other services including the new enhanced Fantasy Fishing competition which provides all members a chance to win prizes.
Visit http://www.ProPatterns.com today to receive all of the latest information about the Exposed videos series, to participate in Fantasy Fishing, and to learn more about all of the member services available.