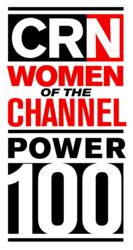 Education is an important part of what we do here at Logicalis. We don't sell products or replicated technology solutions. At Logicalis, we sell knowledge.
NEW YORK (PRWEB) June 18, 2013
Logicalis US, an international IT solutions and managed services provider (http://www.us.logicalis.com), today announced that Lisa Dreher, Vice President of Marketing, has been named to CRN's 2013 Women of the Channel list, and has been recognized as one of this year's Power 100. The annual Women of the Channel list highlights female executives across vendor channel organizations, distributors and solution providers based on their accomplishments over the past year, and the far-reaching impact they are having on the technology industry going forward. The Power 100 recognizes a subset of the women based on their rank, influence, channel savvy, and achievements.
With nearly two decades of marketing and advertising experience, Logicalis' Dreher is responsible for the strategy, tactics and programs that create interest, demand and recognition for Logicalis and its solutions and services throughout the United States. To do this, Dreher and her team develop cohesive programs that utilize public relations, product marketing, creative services, advertising, strategic relationships, social media, and direct, event, channel and online marketing tools to convey the company's unique brand messaging to both clients and vendor partners alike.
"We are pleased to shine a spotlight on the most influential and powerful women working in the channel today," says Robert Faletra, CEO, UBM Tech Channel. "Offering this distinction further extends our ongoing commitment to the women of the channel by highlighting their accomplishments, sharing best practices and connecting powerful women in a forum designed to educate, inspire and advance the channel community."
"Education is an important part of what we do here at Logicalis," Dreher says. "We don't sell products or replicated technology solutions. At Logicalis, we sell knowledge. Our standard solutions offer scale, resiliency, a strong ROI, and the ability to tailor them to unique business needs as needed in order to solve our customers' most pressing business problems. So it's critical for marketing to drive a message that showcases Logicalis' vast pool of IT talent as well as the ways in which our integrated practices seamlessly blend technological expertise with business acumen to create IT solutions that are as unique and individual as our customers. By providing educational content to clients, we naturally showcase our vendor partners' products, our IT solutions, our vast array of services, as well as the depth and breadth of our technology expertise, and we drive confidence in the channel as a result."
A special feature of the Women of the Channel is in the June issue of CRN magazine and expanded coverage of the Power 100 will be featured online at http://www.crn.com.
About UBM Tech Channel
UBM Tech Channel, a UBM company is the premier provider of IT channel-focused events, media, research, consulting, and sales and marketing services. With more than 30 years of experience and engagement, UBM Tech Channel has the unmatched channel expertise to execute integrated solutions for technology executives, managing partner recruitment, enablement and go-to-market strategy in order to accelerate technology sales.
UBM plc
UBM plc is a leading global business media company. We inform markets and bring the world's buyers and sellers together at events, online, in print and provide them with the information they need to do business successfully. We focus on serving professional commercial communities, from doctors to game developers, from journalists to jewellery traders, from farmers to pharmacists around the world. Our 6,000 staff in more than 30 countries are organised into specialist teams that serve these communities, helping them to do business and their markets to work effectively and efficiently.
Want to learn more?

About Logicalis
Logicalis is an international IT solutions and managed services provider with a breadth of knowledge and expertise in communications and collaboration; data center and cloud services; and managed services.
Logicalis employs nearly 3,500 people worldwide, including highly trained service specialists who design, specify, deploy and manage complex ICT infrastructures to meet the needs of almost 6,000 corporate and public sector customers. To achieve this, Logicalis maintains strong partnerships with technology leaders such as Cisco, HP, IBM, CA Technologies, Microsoft, EMC, NetApp, VMware and ServiceNow.
The Logicalis Group has annualized revenues of over $1.4 billion from operations in Europe, North America, South America and Asia Pacific and is fast establishing itself as one of the leading IT and Communications solution integrators specializing in the areas of advanced technologies and services.
The Logicalis Group is a division of Datatec Limited, listed on the Johannesburg and London AIM Stock Exchanges, with revenues of over $5 billion.
For more information, visit http://www.us.logicalis.com.