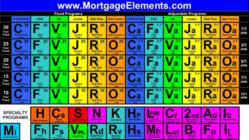 Chicago, IL (PRWEB) June 18, 2013
Startup Mortgage Elements Inc. recently launched a new website that has been pleasantly surprising first time users with its easy user interface and unconventional design.
The website, http://www.MortgageElements.com, has a unique design that consists of only 2 main pages with the entire Home Page visible on the screen of a tablet or desktop computer. The Home Page consists mostly of graphic images and very little text. The website is designed for the Wholesale Mortgage Industry enabling Mortgage Brokers the ability to quickly and easily find information on Wholesale Mortgage Programs provided by various Wholesale Lenders.
Mortgage Elements realized the potential of touch screen capabilities and shifted its website design to embrace the new technology. By focusing its design efforts away from traditional text to simple graphics, the website was able to create a very user friendly experience. To facilitate those efforts, Mortgage Elements Founder, Mark Paoletti, borrowed a concept from Chemistry class – the Periodic Table. Adapting this 150 year old concept to the Mortgage Industry was done by modifying chemical symbols to represent different Mortgage Programs and their amortizations. The symbols were then organized into a table format grouped into mortgage families.
When a new visitor views the Mortgage Elements website for the first time, there is typically a few seconds of confusion because they don't expect to see a Periodic Table in the Mortgage Business. The confusion quickly transforms into an "Aha" moment as a smile draws across their face and the typical response ensues, "This is cool!" This was the response of Michelle Steele, an industry veteran with 22 years in the Wholesale Mortgage Industry and currently Regional Account Manager at Fairway Wholesale Lending.
A few more taps on the screen and a few searches later, "This is really easy!" said Michelle.
"This is a very useful tool!" said Dan Cutaia after navigating around the website for a few minutes. Dan is another Mortgage Veteran with extensive experience automating mortgage operations and running multibillion dollar Retail and Wholesale Mortgage companies over the past two decades. Dan now serves as President of Acutia, a Mortgage Consulting firm.
These remarks and reactions are typical for first time users. After navigating around the website for a few minutes, the novelty of the design subsides, and the real utility and functionality of the website surfaces.
While the website http://www.MortgageElements.com may be easy to use and look simple, designing and adapting the concept took dozens of prototypes and months of trial and error to get it right.
Applications and concepts that work in one industry can very often be adapted to solve challenges in another unrelated industry, but the key to successful transplantation of ideas and concepts across industries still lies in the nuances of each industry.
About Mortgage Elements Inc.
Mortgage Elements Inc. is an Internet Marketing company that provides marketing, database, and search options for the Mortgage Industry through its website MortgageElements.com. The Company uses a unique website design optimized for touch screen technology and use on mobile devices, desktop, and laptop computers. Mortgage Elements is a B2B company for the Mortgage Industry and not a lender.
Contact Information
Mark Paoletti – Founder / President
Mortgage Elements Inc.
630-529-3755
http://www.MortgageElements.com