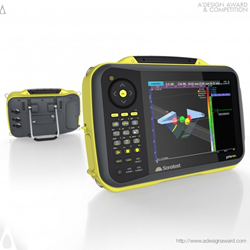 Como, Italy (PRWEB) June 19, 2013
A' Design Award and Competitions are happy to inform that the project Prisma by L A Design won the famed Platinum A' Design Award at Scientific Instruments, Medical Devices and Research Equipment Design Category and selected as a winner by the transnational awarding commission of the A' Design Award & Competition within a great number of participants.
Regarding Prisma
Prisma is a Portable Ultrasonic Flaw Detector that was designed for non-invasive material testing in the most extreme environments. It is the first detector that incorporate advanced real-time imaging and 3D scanning, making flaw interpretation much easier and reducing technician time on site. With a virtually indestructible enclosure and unique multiple inspection modes, Prisma can cover all testing applications, from oil pipelines to aerospace components. It is the first detector with integral data recording, and automatic PDF-file report generation. Moreover, wireless and Ethernet connectivity allow the unit to be easily upgraded or diagnosed.
To learn more about the award winning design, please visit: http://www.adesignaward.com/design.php?ID=27390
Team Members for Prisma
Prisma was made by Pete Holdcroft and Matthew Brown from L A Design together with Yvan Gosselin and Stewart Lamont from Sonatest.
The Platinum A' Design Award
The Platinum A' Design Award is a prestigious award given to top 1% percentile designs that has delivered an exemplary level of quality in design. The designs are judged by a panel of three different jury which is composed of Academic, Professional and Focus Group Members. The designs are evaluated with score normalization to remove any biases and are voted on aspects such as functionality, ergonomics, engineering, presentation, innovation, usability, fun details, technology, and any other specific points that could be considered, each of these points are further weighted for different jury groups.
About A' Design Award and Competitions
A' Design Award and Competitions, aims to highlight the excellent qualifications of best designs, design concepts and design oriented products. A' Design Award and Competitions are organized and awarded annually and internationally in multiple categories to reach a wide, design-oriented audience. Learn more: http://www.whatisadesignaward.com