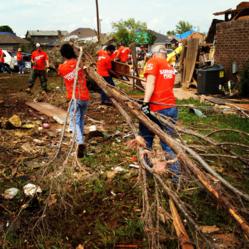 I am proud that Foundation Financial Group was able to be part of people uniting from across the country to help a devastated community become whole again.
Fort Worth, Texas (PRWEB) June 25, 2013
Foundation Financial Group supported Samaritan's Purse, a non-profit organization that gives aid after natural disasters occur. Employees from Foundation Financial Group's Fort Worth Regional Sales Center joined forces with other Samaritan's Purse volunteers in response to the damage caused by the tornado that struck Moore, Okla. In addition to volunteer hours, Foundation Financial Group employees made a significant financial contribution to Samaritan's Purse.
"When the tornado struck the city of Moore, we knew this was a cause we had to be involved in," said Foundation Financial Group Event Coordinator Dana Chen. "Moore is only a short drive north from us, and we have colleagues from the area. The victims of the storm are our neighbors, so lending support just felt natural."
Motivated to help the citizens of Moore recover, the entire staff at FFG's Fort Worth Regional Sales Center, located at 6000 Western Place Suite E120, loaded food, drinks, and tools into a 15 passenger van to make the trip together. Upon arrival, Samaritan's Purse organizers directed the FFG volunteers to the houses in need of their attention. Volunteers worked all day, removing debris, salvaging personal belongings, trimming overhung branches, cutting up and carting away fallen trees, and covering damaged roofs with tarps. The demanding physical labor was, at times, dangerous, but volunteers struggled more with their emotions.
The hardest part, according to FFG staff, came when the team worked on the houses that were directly hit by the tornado. "The homes were not even houses anymore," said one FFG volunteer. "Roofs were completely torn off, cars were upside down with wheels pointing toward the sky, pools were overflowing with murky water, and the broken toys of children were scattered everywhere."
By the end of the day, FFG employees mended 11 homes ravaged by the EF5 tornado. Foundation Financial's team of volunteers did all they could to improve and restore each house on their list. Chen recalled one home that belonged to an 85-year-old man. "When we arrived, the homeowner was painstakingly picking up debris," she said. "He was determined to clean his property, but at his pace it could have taken a week." FFG's volunteers descended on his yard with their work order; in less than 30 minutes, the lawn was spotless.
"Seeing someone smile after they've been through a terrible event is unbelievably special, and our team's efforts in Moore brought smiles to a lot of faces," said Chen. "Each year Foundation Financial donates time, money, and resources to community improvement projects that are important to its employees. The magnitude of Oklahoma's tornado relief effort presented a unique opportunity for FFG volunteers to directly interact with the people receiving our help. We became part of the community and witnessed the immediate positive impact of our volunteerism. I am proud that Foundation Financial Group was able to be part of people uniting from across the country to help a devastated community become whole again."
Founded in 1970, Samaritan's Purse is an organization that provides spiritual and physical aid to victims of war, natural disasters, disease, famine, poverty, and persecution in over 100 countries. Since 1998, staff and volunteers have helped more than 25,000 families impacted by U.S. natural disasters by quickly providing emergency supplies and repairing, cleaning and rebuilding homes.
About Foundation Financial Group
Foundation Financial Group is a multibillion dollar financial services corporation. FFG offers its customers Best in Class service through its Insurance, Retirement and Mortgage Services.
Named one of the fastest growing financial companies in the country by INC magazine, FFG has continued to grow its nationwide presence with over 100,000 new customers per year in 39 states. In addition to the value that Foundation Financial provides every customer, it is also dedicated to its communities and the people who live in them. Through a vast array of philanthropic endeavors the company not only provides significant monetary donations but also fosters a workforce environment that encourages all team members to personally make a difference. Foundation Financial is committed to its strong focus on customer service and community investment as it continues to grow and compete with the largest financial institutions in the world.
Foundation Financial Group reviews all public relations inquiries. For additional information, interview and image requests, contact the Foundation Financial Group Public Relations team.