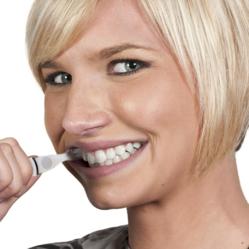 Lake Forest, CA (PRWEB) June 19, 2013
Dentist.net is now selling the Senzacare's TravelSonic portable electric toothbrush perfect for people on the go. People love that they can throw this toothbrush in their bag and freshen up after lunch before a meeting or take it with them for a sleep over. They get sonic cleaning power in a portable stylish design.
Dentist.net is an online destination for dental health information and offers some of the
best dental products on the market. Consumers can review a range of oral care products for Teeth Whitening, Bad Breath, Electric Toothbrushes, Bleaching Gels, Dry Mouth, Cold Sores, Canker Sores, Natural Dental Care and more.
TravelSonic is listed on Dentist.net's new products page and sports Dupont soft bristles with 20,000 sonic movements per minute for great plaque removal. The AAA battery with no plugs so there is extra counter space and its hygienic cover make it perfect to put in your draw or gym bag. Dentist.net offers the TravelSonic in black, salmon and traditional white color options.
For more information please visit Dentist.net