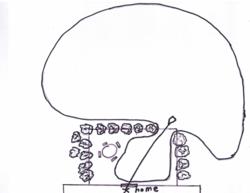 Plainfield, IL (PRWEB) June 19, 2013
Shocking a dog to keep it in the yard has become very popular over the past 4 decades primarily because safe and effective alternatives didn't exist, or were too expensive. Shock collar systems work by inflicting inhumane and painful shocks to the dog's throat to enforce compliance to the boundary. The industry likes to call these "tingles" or "corrections", but the reality is they are painful shocks and often cause emotional trauma to the dog. Dogs deserve better. The IntelliLeash System™ uses smart technology to provide a pain free, tangle and escape proof boundary.
"For three years, I searched for a product that could keep my dog safely in my yard without tangling around the bushes and patio furniture, without shocking my dog, or cost thousands of dollars to install," explained Bob Yackley, President and founder of IntelliLeash Products, Inc. and inventor of the IntelliLeash System™. Out of personal frustration the IntelliLeash System™ was invented.
For the past 40 years, the most common options to keep a dog home included traditional fences costing thousands of dollars, shock collar systems that require proper training and installation, yet can't guarantee it will stay within the boundaries, and standard tethers that allow a dog to tangle around everything within range.
After four years of product development, the patented IntelliLeash System™ is now available to provide dog owners a unique, safe, and effective alternative. The IntelliLeash System™ is a safe and secure, pain-free, escape and tangle proof boundary system. It is custom programmable and can be operational in minutes right out of the box. It's so simple that virtually anyone can install it and it doesn't require the dog to be trained. The key components include:
•portable base that securely mounts to the ground
•removable control unit with a retractable leash, similar to that of a walking leash

•positional sensors that allow the unit to memorize the boundary and keep track of the dog's position and activity

additional built in safeties such as speed limiting and cushioned stops that protect the dog while also adding durability to the unit.
Since the dog is physically attached, it can't run off through the shock. The dog has complete freedom to roam within the desired boundary which the owner programs. But if the dog leaves the desired area, the IntelliLeash Systems™ restricts the leash from paying out and gently draws its dog back into the desired area without pulling or shocking, by only allowing free movement back towards the desired boundary. When the dog is brought inside and removed from the unit,the system knows to stop retracting so the leash can remain at door where it doesn't have to be retrieved to reattach the dog.
To see it in action, visit http://www.intellileash.com and click on "See Demonstration Video" or click the following link: http://www.youtube.com/watch?v=WFPQuA6vCoY
The photo showing the yard with many obstacles, demonstrates how the owner can establish a narrow pathway from the patio to the open yard while excluding the patio furniture, creating a large tangle free roaming area.
Programming is as easy as walking the perimeter. http://www.youtube.com/watch?v=uqbOF9R0WaM
Having company, going on vacation? Simply reprogram the IntelliLeash System™ as often as desired to redefine the boundary. Or take the IntelliLeash System™ to a family member's house. It's a great alternative to spending hundreds of dollars leaving a dog at a kennel.
Currently the IntelliLeash System can only be purchased online at http://www.intellileash.com . IntelliLeash Products, Inc. is also working with independent pet store owners, dog groomers, vet clinics, dog trainers, pet sitters and walkers, home delivery services, and rescue centers to promote awareness.
To purchase, become a partner, or just to learn more, visit http://www.intellileash.com
Contact IntelliLeash Products, Inc. at:
PO Box 750
Plainfield, IL. 60585
Phone: 888-573-5015
http://www.intellileash.com
Follow them for product updates via:
Facebook: http://www.facebook.com/intellileash
Twitter: @intellileash
IntelliLeash Products, Inc was founded in 2011 from Yackley Enterprises, LLC (founded in 2010) and is located in Plainfield Illinois. IntelliLeash Products, Inc creates, designs, manufactures, and commercializes specialty pet products. IntelliLeash Products, Inc was recently awarded a patent for the IntelliLeash System™ and has an international distribution partnership with Xammax International, Hong Kong. The majority stockholder and President is Robert Yackley.