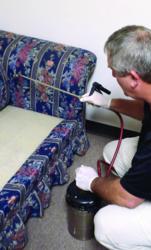 With Cimi-Shield, we get callbacks we like — repeat business, not retreat demands.
Carson, CA (PRWEB) June 19, 2013
Fast-acting, long-lasting, 'green bed bug eliminator' rapidly gaining PMPs' trust thanks to proven efficacy, safety and 12-month residual.
Univar Environmental Sciences has agreed to distribute Pest Barrier's Cimi-Shield "green bed bug eliminator" to pest management professionals (PMPs) across the U.S.
The distribution agreement will help arm thousands of PMPs in the global war against bed bugs. Univar Environmental Sciences, the largest distributor to the North American pest management market, operates more than 70 Univar Pro Centers, and employs a team of talented entomologists and pest management experts.
Cimi-Shield, a water-soluble concentrate that kills bed bugs on contact, easily applies with a pump sprayer. Made with ResidulenTM, a soybean extract, Cimi-Shield delivers 12 months of residual pest protection in cracks and crevices and on textile surfaces such as mattresses and box springs, carpet and drapes, and furniture.
"With Cimi-Shield, we get callbacks we like — repeat business, not retreat demands," says Bob Lee, president and owner of Prescott, AZ-based Enviro Safe Pest Control.
Cimi-Shield meets guidelines established by the Federal Insecticide, Fungicide, and Rodenticide Act (FIFRA), Section 25(b). Such products are exempt from pesticide registration by the U.S. Environmental Protection Agency, and are "made from all GRAS (generally regarded as safe) ingredients."
"With Cimi-Shield, PMPs can resume their rightful place as protectors of public health and guardians of the environment," says Pest Barrier President Cameron Riddell. Cimi-Shield is non-toxic, non-staining, odorless and hypoallergenic. The environmentally friendly product is available in two formulations — both of which deliver proven efficacy and safety, as well as 12-month residual pest protection:

Cimi-Shield Knockout is engineered for active infestations; and
Cimi-Shield Protect prevents initial infestations.
"Our Dynamic Duo of Cimi-Shield products — Knock Out and Protect — represent a revolutionary, not evolutionary, leap forward in bed bug management," Riddell says. "Approximately 60% of any current infestation is comprised of eggs that will hatch within 10 to 15 days. With Cimi-Shield's 12-month residual, PMPs and their customers, in a single pass, can say goodbye to nerve-wracking, wallet-whacking bed bug retreats."