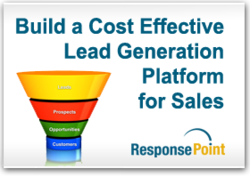 A cost effective approach to lead nurturing and pipeline management
Raleigh, NC (PRWEB) June 18, 2013
ResponsePoint (http://www.ResponsePoint.com), a Raleigh, North Carolina based marketing agency specializing in Business-to-Business (B2B) lead generation solutions has announced a new Sales Enablement Program designed to create a sustainable pipeline of quality prospects. Leveraging best practices developed from over two decades of experience providing marketing, sales support and lead nurturing services, this new program compliments and/or augments the role of an internal marketing team.
ResponsePoint's new Sales Enablement Program provides a cost effective lead generation platform for companies that need a steady stream of leads but do not have the resources to hire, train and manage a full-time marketing department. This turnkey program not only creates a custom marketing strategy, but it also implements and manages the long-term execution of that strategy.
"Companies are realizing that it's more cost effective to invest in proven lead generation programs than to hire additional marketing team members," says Brian Gossett, CEO of ResponsePoint. "A quality lead nurturing program for instance can be built, implemented and run for a whole year for significantly less than the salary and benefits of an entry level marketing manager."
Built on a foundation developed to support sustainability, ResponsePoint's Sales Enablement Program provides the structure necessary to effectively identify prospects and nurturing them through the sales funnel in order to shorten the sales process.
For more information about ResponsePoint's Sales Enablement Program, visit their website at http://www.responsepoint.com or call 800-990-0725.
About ResponsePoint
ResponsePoint builds efficient and effective B2B lead generation solutions. Our process centered approach to lead generation improves your ability to produce better quality leads, consistently over time. This starts with developing a strategy that aligns your objectives with the right target audience and the perfect mix of marketing communications. We then use our experience to apply proven marketing processes and technologies that simplify program management, measurement and sustainability for long after our initial engagement is over. ResponsePoint's headquarters is just outside the Research Triangle Park area of North Carolina.