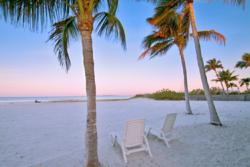 "We wanted to offer a solution that will give them this peace of mind.....at an affordable cost."
Fort Myers, FL (PRWEB) June 18, 2013
Greenbee Parking, one of the leading parking solutions company in the country has nominated Holiday Inn as their featured partner of the month in Fort Myers. Fort Myers (RSW) airport is not only one of the busiest airports in the nation but is also a gateway to many holiday destinations in Florida and the South as well as for tourist hotspots beyond the borders. Naturally, that makes a passenger footfall very high with transport to and from the airport a big business by itself. This in turn has led to increasing demand for parking spaces and need for better and easier parking options for travelers. With Greenbee Parking providing easy parking options there is definite hope for better and faster solutions with Fort Myers long term airport parking options for travelers here.
According to Mohit Mehra – Manager, Greenbee Parking, "We understand what travelers have to go through every time they are looking for a parking space that will keep their vehicles secure. We wanted to offer a solution that will give them this peace of mind and that too at an affordable cost. Our partnerships with leading hotels like Holiday Inn are designed to offer the best Fort Myers long term airport parking solutions to customers at the least price possible."
Fort Myers Airport Parking Information
The Fort Myers or the Southwest Florida International Airport (RSW) is a comparatively new airport but has already reported over 7 million annual passenger footfalls in the past two years. Going by its sheer passenger traffic, this state-of-the-art and modern terminal ranks among the top 50 US airports easily. 18 leading airlines serve the airport connecting travelers to megalopolises like Chicago, Atlanta, New York and Los Angeles along with international connectivity to places like Germany and Canada. This award-winning airport serves the counties of Lee, Charlotte, Collier, Glades and Hendry in Southwest Florida which is known for its pristine white beaches and picturesque outdoors.
LeeTran provides bus service from these places to Fort Myers airport while the MBA Airport Transportation provides taxi service to travelers in the area. But the majority of ground transportation features rental and personal cars which in turn lead to increasing demand for airport parking spaces. Fort Myers long term airport parking solutions from Greenbee Parking has now made it easier to drive to and from the airport without worrying about the safety of their cars or getting a good parking space in the first place.
The Greenbee Airport Parking Solution
Greenbee Parking has effectively bridged the gap between parking problems and solutions at both airports and major seaports. They have tied up with major hotels for available parking spaces at discounted rates which they offer their customers across the nation.
All that travelers need to do is visit Greenbeeparking.com, select their city or airport of choice, choose the parking spot and pay through a secured payment gateway. There is a comprehensive list of airports and parking spots to choose from. Greenbee's wide network makes it possible for every customer who logs in to find a solution. Now with options like cheap RSW long term airport parking solutions travelers can save more than 75% of their parking costs.
About Greenbee Parking
Greenbee Parking is the nation's most innovative long term parking company, with a new way of making long term parking affordable. The company is rapidly adding new airports to its network.