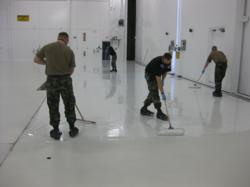 Wall, NJ (PRWEB) June 19, 2013
An Illinois National Guard Unit recently used Garon's epoxy floor coating on an unprotected concrete floor of an aircraft maintenance hangar to protect the floor and safeguard workers.
The National Guard and Airmen of the 183rd needed a concrete flooring solution that could withstand constant traffic, chemicals and possible abrasions—all factors that could affect the floor during routine F-16D fighter jet maintenance. It also needed to be safe to avoid slip-and-fall accidents.
Garon recommended a three-step epoxy floor coating solution that would stand up to impacts on the 20,000 sq. ft. floor. The personnel completed the work themselves under Garon's supervision in order to save on costs.
First, the National Guard Unit used diamond grinding to prepare the floor for the epoxy floor coating. And then to further ready the concrete surface applied an expansion joint filler [Joint Guard™]. They deployed preparation equipment from a nearby tool rental company.
Next, they applied two layers of an epoxy floor coating [Tigerbond™ 221 Ultra] using a squeegee and roller. The white floor coating color fit with the unit's focus on cleanliness.
Finally, a chemically resistant high-build concrete floor urethane topcoat [Hi-Gloss™] gave the concrete floor a 3 mils thick coating with a 3/8" hair nap roller for protection and a sharp look.
After the top coat was applied, they embedded aggregate [Garon Grit™ 60] into the epoxy floor coating and then rolled it again with the urethane topcoat using a hair nap roller. The aggregate broadcasting offers safe footing and complies with both Americans with Disabilities Act (ADA) and Occupational Safety and Health Administration (OSHA) standards.
To read the full story and watch live video of the aircraft maintenance hangar floor installation, visit http://www.floorcoatingtv.com/aircraft-hangar-floor-coatings/aircraft-hangar-floor-coating/.
About Garon Products Inc.
Garon Products Inc. is the leading direct marketer of concrete repair and floor coatings through its catalog "Concrete Floor Solutions" published four times a year. Garon also manufactures specialized floor coatings and concrete resurfacing products for every flooring application. The line includes epoxy, cement urethane and polyaspartic compositions. For more information, visit http://www.garonproducts.com.