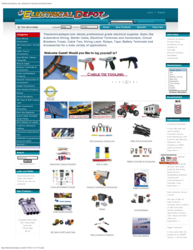 Electrical connectors and much more!
Spokane, WA (PRWEB) June 18, 2013
The Electrical Depot.com has grown from its inception in January of 2011 to have nearly 1500 products with more being added all the time. The online company has a philosophy of having a one stop shop of reasonably priced parts and accessories for the large variety of customers they serve. Here are four recent additions.
Paladin #1123 GripP Wire Strippers Bundle:
GripP cut and strip solid and stranded 22-10 and 30-20 AWG wire with these two tools. Optimum ergonomic design with 22 degree angle prevents awkward wrist bends. Comfortable, rubber-embedded handles.
Consist of GripP 20 and GripP 10 stripper (internal)

Cut & strip solid and stranded 22-10 and 30-20 AWG wire with these two tools
GripP 10 strips internal wires of Romex household cable
Precision-ground
Non-scoring grip & smooth wire cutting
Screw cutter & wire loops embedded in frame
Gripping jaws on tip of tool
Delphi OEM GM Unsealed Double Terminal Crimper 12040070:
Designed to crimp doubles (two wires) within maximum range 20-14 AWG.American Made. Supplied WITHOUT ratchet mechanism to allow user to perform partial crimp in one cavity and and shift to another. Also performs partial or complete crimps on difficult "singles" including 10 gauge 56 series male and female terminals. using the Double Crimp Tool, you can crimp double F-Type terminals where the wire ranges from 10 to 18 AWG In most cases. Great For That General Motors Restoration Project.

Maximum working range 20-14, 18-20 Application: Unsealed Doubles Core and Insulation
Cable Range" (mm) 2.0 - 0.50
Bench-Mount HexCrimp 4255-001M:
Crimps 8 thru 4/0 gauge cable
Bench-mount attaches to wall, table top, service truck, etc
Crimps all major brands of connectors
26" long handle
Rotating adjustable dies
Bench-mount tool easier to use, safer, less likely to get damaged or "lost"
Patented features
Made in North America
Proheat Varitemp Heat Gun PH-1200:
Ergonomic design for superb balance and grip
Protective hand/switch guard and convenient hanging loop
Variable temperature with patented electronic temperature control system
Pre-select and maintain any temperature from 130° - 1000°F / 50° - 540°C
Powerful airflow at 4000 FPM and 16 CFM
The Electrical Depot.com Expect fast turn around, products usually ship the same or next day unless it is a special order item. The many testimonials that can be read on the website attest to the fine service they provide many happy customers. It would be well worth the time to go to the site and see the large variety of supplies and electrical products they offer.