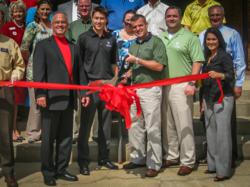 I've always found that keeping the customer experience in clear focus and continually adapting to the massive changes that technology brings every year is the best way to make sure InkHead enjoys more decade-long anniversaries
Winder, GA (PRWEB) June 18, 2013
InkHead Promotional Products is celebrating its 10-year anniversary in June 2013 with big plans to turn the esteemed milestone into a year-long celebration for its customers and clients, complete with a special product discount of 10% off orders over $500 and a free InkHead-brand 1MB flash drive with every order.
Based just outside of Atlanta, Georgia, InkHead is the Web's premier provider of custom promotional products and specialty advertising services. And while the past 10 years seem to have passed quickly, Team InkHead has experienced growth, profits and accolades that are typical of businesses much older than is theirs.
InkHead grew out of the minds and hearts of three like-minded business professionals and technological wizards. Out of several start-up ideas and efforts, this team created and followed a single driving force--to bring a fresh approach to the promotional products industry that combines tech savvy and earnest industry service.
After a purposeful and deliberate start, InkHead began gaining amazing traction and displaying uncommon resiliency. The team grew out of a couple of offices, added a handful of artists, sales people, and an experienced Vice President of Sales and Marketing. 2012 was a banner year for InkHead technology, as they focused on speed, usability, and mobile operations.
It wasn't long before the nationwide promotional products industry began to take notice of InkHead's uncommon growth and success. They placed second in the ASI Spirit Awards category of Top 10 Fastest Growing Distributors in the advertising specialties industry. Inc.com, the daily resource for entrepreneurs, ranked them at 560 for America's fastest growing private companies, as well as one of the Top 100 Businesses in Atlanta. And the Promotional Products Association International (PPAI) as recognized InkHead as the leader in technical web site innovation.
In reflecting on the past decade, InkHead founder and CEO Chris D'Agnese--in his typical forward-thinking fashion--looks to the future. "It has been quite a ride since the very first day we set up shop and dedicated our lives to changing the industry," Chris explains. "But the next decade literally starts today, and I've always found that keeping the customer experience in clear focus and continually adapting to the massive changes that technology brings every year is the best way to make sure InkHead enjoys more decade-long anniversaries".
About InkHead Promotional Products
Founded in 2003, Atlanta-based InkHead Promotional Products, is a leading distributor in the promotional product and advertising specialty industry, offering a diverse catalog of customizable items ranging from promotional apparel to custom coffee mugs.