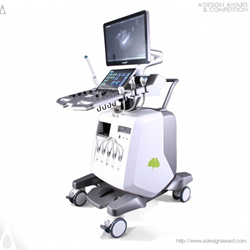 Como, Italy (PRWEB) June 20, 2013
A' Design Award and Competition is happy to share that the project Vinno 80 by Nicola Butti for Buttisstile Design was awarded with the famous Platinum A' Design Award in the Scientific Instruments, Medical Devices and Research Equipment Design Category and elected as the winner by the respected jurors of the A' Design Award & Competition among numerous designs.
Regarding Vinno 80
The main goal of designing the project Vinno 80, a family of high end ultrasound medical devices, was to create an aesthetic, highly recognizable product designs that will appeal to a new customers. Therefore, the product was freshly presented in international exhibitions where it reached success and received positive feedback from a potential clients and visitors. The new design has become surprisingly popular due to the neat styling, which represents a combination of solid shape and organic, soft surfaces. In addition, the geometrical edges and cold-pattern colors are used since it's required in the aseptic hospital environment. As a result, the Vinno 80 provides a highly appealing yet professional look of the new generation medical device that is aiming for success in the market.
To learn more about the award winning design, please visit: http://www.adesignaward.com/design.php?ID=27947
Creative Team for Vinno 80
Vinno 80 was realized by Nicola Butti from Buttistile Design and Peter Xi from Vinno Technology Co. Ltd.
The Platinum A' Design Award
The Platinum A' Design Award is a prestigious award given to top 1% percentile designs that has accomplished an exemplary level of quality in design. The designs are judged by a panel of three different jury which is composed of Academic, Professional and Focus Group Members. The designs are evaluated with score normalization to remove any biases and are voted on aspects such as functionality, ergonomics, engineering, presentation, innovation, usability, fun details, technology, and any other specific points that could be considered, each of these points are further weighted for different jury groups.
About A' Design Award and Competitions
A' Design Award and Competitions, aims to highlight the excellent qualifications of best designs, design concepts and design oriented products. A' Design Award and Competition is organized and awarded annually and internationally in multiple categories to reach a wide, design-oriented audience. Learn more: http://www.whatisadesignaward.com