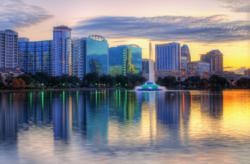 "We want to change the concept of travel and parking completely."
Orlando, FL (PRWEB) June 19, 2013
Latest web upgrades for Greenbee Parking, the dynamic airport parking solutions provider, has revealed super saving packages for travelers using the Orlando (MCO) airport with cheap Orlando International Airport long term parking. Orlando is one of the busiest airports in the South, not just for the presence of Walt Disney World but also for the glimmering beaches of Florida. It is also a major gateway to multiple international destinations which leads to high volume of passenger traffic here. While the demand for more parking spaces is high, travelers are also stymied by the high parking cost incurred at the airport and are constantly on the lookout for cheaper options. The latest discount offer from Greenbee Parking promises to solve the crisis at an affordable price.
"We want to change the concept of travel and parking completely," said Christine Cooper – Marketing Coordinator, Greenbee Parking. "We want our customers to experience new age travel with us, which is an epitome of ease and comfort. Beefing up our online presence and regular upgrades will make it easier for our clients to avail super discount services like Orlando International Airport long term parking. We hope to provide travelers across the country a better way to park their cars and be at peace."
Orlando International Airport Parking Information
Orlando International Airport (MCO) is the second-busiest airport in Florida and the 13th-busiest airport in the United States. It is strategically located near all of Orlando's leading attractions, the business district and the Orange County Convention Center. This leads to heavy volume of leisure as well as business travelers. Majority of airport transfers happen via rentals and cars which mean that there is a great demand for parking spots even though the steep price is a deterrent. With Orlando International Airport long term parking solutions from Greenbee Parking, travelers can now expect great service for very competitive prices.
The Greenbee Airport Parking Solution
Greenbeeparking.com is the connection between consumers and parking vacancies in close proximity to major airports and seaports. The parking spaces are very affordable because the company has negotiated discounted rates with major hotel chains for the parking spaces that are not currently occupied. Here's how it works.
Greenbee Parking puts the available inventory of parking spaces on their website to be reserved by business and leisure travelers looking for cheap MCO airport parking. This alternative method for finding parking equates to significant savings for the traveler. These savings are sometimes as much as 75% less than parking at the airport or seaport.
About Greenbee Parking
Greenbee Parking is the nation's most innovative long term parking company, with a new way of making long term parking affordable. The company is rapidly adding new airports to its network.