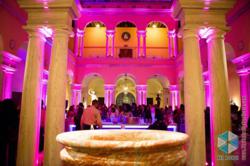 Baltimore, MD (PRWEB) June 17, 2013
WHO/WHAT:
The Here and Now Party offers visitors the opportunity to experience two contemporary art exhibitions and enjoy live music, refreshments and interactive group activities. Experience the Sondheim Artscape Prize Finalists Exhibition and see photographs in unexpected settings in Site Unseen, Gregory Vershbow.
DJ Jus-Spin will play tunes in the museum's sculpture court and party guests will enjoy video art from former Sondheim winner and filmmaker Matthew Porterfield. Mosaic Nightclub and Lounge will provide the cash bar. The Here and Now Party is generously supported by Constellation, an Exelon company.
WHEN:
Thursday, July 25 —5-9 p.m.
RSVP at http://herenow.eventbrite.com/. Guests receive a complimentary Stoli cocktail and can be entered to win an exclusive raffle prize.
WHERE:
The Walters Art Museum – 600 N. Charles Street, Baltimore, Maryland 21201.
WHY:
Constellation Thursday Nights is a component of the Walters' ongoing efforts to expand audiences by attracting diverse visitors of all ages, including young adults.