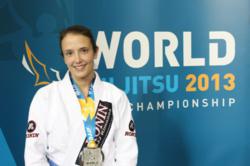 "We believe summer should be action-packed, with new field trips, new friends and new athletic and mental challenges every day of the week for our kids."

- Roberto Torralbas, Founder, Team Third Law
Naples, FL (PRWEB) June 19, 2013
Team Third Law BJJ & Muay Thai is raising the bar in summer day camps, hosting the best summer camp in Naples this year.
Days are packed with martial arts classes, super-fun field trips, academics, athletic activities, crafts, games -- all kinds of adventures. Instructors are professional martial arts teachers, with years of experience working with kids in athletic and academic settings.
A full 10-week program, Team Third Law's camp offers structured activities from 9 am to 4 pm, with drop off as early as 7 am and pick up as late as 5:30 pm. Sessions are customizable for families, depending on the dates needed.
"When I started our summer camp three years ago I set out to make it not only a blast for kids, but also a super-productive, fast-paced learning environment," says Roberto Torralbas, who founded Team Third Law in 2007. "We believe summer should be action-packed, with new field trips, new friends and new athletic and mental challenges every day of the week for our kids."
Torralbas, who has been studying, training, coaching and competing in Brazilian Jiu Jitsu for nearly a decade, is a graduate of Cornell University in Electrical and Computer Engineering. He founded Team Third Law in 2007, when a move to Naples meant he was far away from his coaches and training partners. Together with his wife Katy, Torralbas started Team Third Law's first summer camp three years ago. Also a Cornell graduate, Katy studied English and history in college.
Kids in Team Third Law's camp are divided into groups by age, with the Lions (ages 3 to 5), Cobras (ages 6 to 9) and Eagles (ages 10 to 13). The kids come together for some activities, and then also split into their groups for activities including martial arts classes and field trips. The school's 9,000-square-foot facility, which has four large classrooms and two small classrooms, offers endless fun for kids. Think of it like a huge, indoor playground.
During the camp, kids participate in martial arts classes taught by Team Third Law's professional athletes and coaches in Brazilian Jiu Jitsu, Muay Thai kickboxing, wrestling, boxing, and judo. Plus, campers have the chance to do all kinds of other athletic activities, from coordination- and agility-building obstacle courses to rope climbing and more traditional sports including basketball, volleyball and soccer.
"Martial arts builds confidence, athleticism, discipline and self-respect in kids in a way that is truly amazing," Torralbas explains. "In our classes kids learn not only world-class technique but also essential life skills including respect, focus and perseverance that will enable them to be successful in whatever challenges they take on in life."
When it's time for academics, campers each receive a grade-level workbook to help them get a head start on the skills they'll need to be successful in their new grade. Specialized academic help is available for kids who need it, and exciting projects and contests keep kids motivated to achieve academic success during the summer months.
"Many kids make huge academic improvements during the school year, but if they don't use those skills over the summer they experience a backslide," Torralbas says. "Our goal is to continue to build on the skills they learned last year and start them on activities appropriate for their coming grade level, so they're already a step ahead on the first day of school."
If you're interested in Naples' Best Summer Camp for your child, visit http://www.NaplesBestSummerCamp.com today, or call 239-628-3529 for a free martial arts evaluation class for your child and a tour of the facility. New students receive a free gi (uniform) for the program. Spots are filling up fast, so call now!
Some of the field trips planned for this summer:

Sun N Fun Lagoon
"Alligator Hunting" nature preserve expeditions
Trips to Marco Island and Naples best beaches
Mini Golf
Royal Scoop Ice Cream Factory
Children's Museum of Naples
Naples Botanical Garden
Airboat ride in the Everglades
Boating
Fort Myers Imaginarium