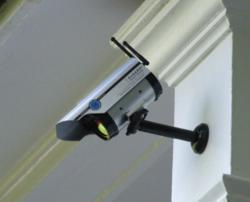 The look and feel of this camera is just as good, if not better, than real security cameras costing 75 percent more.
(PRWEB) June 18, 2013
Jordan Frankel, widely known as the Security Sensei, announces the one year anniversary of one of his most successful home security products, the OnGARD Smart Dummy Camera. The OnGARD Smart Dummy Camera was launched in June 2012 and has received an overwhelmingly positive response from consumers and security experts alike.
The OnGARD Smart Dummy Cameras are designed to look exactly like the far more expensive security cameras used to monitor exclusive homes, high-dollar corporate facilities and secure government buildings. Frankel, president of Global Security Experts, said this innovative dummy camera is a must-have for all homeowners who are leaving their homes behind during vacations this summer.
"The OnGARD Smart Dummy Camera will give you the peace of mind you deserve while you're away from home on summer vacation," Frankel said. "The look and feel of this camera is just as good, if not better, than real security cameras costing 75 percent more. But most of important of all, the OnGARD Smart Dummy Camera deters burglars and violent home invaders who are unable to distinguish between this product and the real thing."
The Smart Dummy Camera includes a number of inventive and original features. The OnGARD Smart Dummy Camera is solar-powered, making it environmentally friendly as the camera's internal rechargeable batteries last for years of uninterrupted use.
The batteries are enclosed in a water-resistant casing, which protects against rain, sleet, snow and other harsh weather conditions. The camera includes stainless steel screws and silicone gaskets for extra durability. In addition, an Ultra Violet coating protects the camera's casing against prolonged exposure from sunlight and high temperatures.
Two "dummy" antennas are featured on the OnGARD Smart Dummy Camera to mimic the professional video transmitting antennas found on high-end security cameras. An adjustable swivel mount also mirrors the style of more expensive surveillance cameras, giving the illusion that potential thieves and intruders are being monitored.
Since its launch in June 2012, the OnGARD Smart Dummy Camera has continuously won praise from industry experts.
Jeff Dingle, former director of Carter Presidential Center and current director of security at PCI Gaming Authority, said, "In 5 separate comparisons with expensive working cameras, many of which have the same or similar antennas and casings, I was unable to spot the OnGARD Smart Dummy Camera as the only fake item in these reviews. I carefully reviewed each camera – and the OnGARD Smart Dummy Camera looks like the real thing. Rather, it looks more real than the real thing, which is proof of the Sensei's expert craftsmanship and attention to detail."
To learn more about the OnGARD Smart Dummy Camera, or other products from Global Security Experts, please visit http://www.globalsecurityexperts.com.
About Global Security Experts:
For nearly two decades, Jordan Frankel has led the professionals at Global Security Experts in providing affordable, customized home security solutions for the everyday citizen. Global Security Experts offers the latest state-of-the-art security devices and physical deterrents to home invasion, as well as on-site training to families, businesses and individuals worldwide. Frankel, known as the Security Sensei, is a highly trusted authority in the field of residential security. He has completed home security makeovers and trainings for celebrities, high-profile business executives, and even a former President of the United States. Frankel and his revolutionary security inventions have been featured on several national television shows and in news outlets throughout the country, including The Oprah Show, The Rachael Ray Show, Fox News, The Boston Herald and more. Additionally, Frankel has authored countless articles for a variety of the most respected security publications worldwide. To learn more and to find out what Global Security Experts can do for you, visit globalsecurityexperts.com.