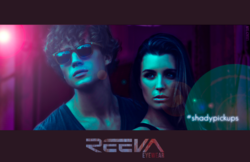 Buy your tickets & find us for the ultimate summer fun @EDCLasVegas, @Ibiza, or @Miami
Miami Beach Fl (PRWEB) June 19, 2013
Summer's here and celebrating their 1000x online sale and Ibiza in full swing. Reeva shares with those that haven't yet been able to get a pair of their favorite #shadypickyups. Make a scene at Ushuaia, give Richie, Loco Dice, or Luciano a shout. We'll be there to have your back.
Promo code will be active until August 1st and good for 20% OFF. Time's no longer in your favor! Be sure to tune into @ReevaEyewear on Facebook, Twitter, & SoundCloud for the latest news and tunes.
Promocode - "summerlove"