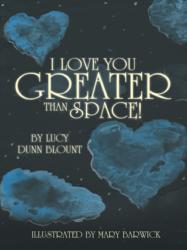 Decatur, Alabama (PRWEB) June 19, 2013
It's clear that love is one of the most powerful forces in the world – either between two people in a romantic relationship or between God and man. Lucy Dunn Blount discusses both of these forces in her new book "I Love You Greater than Space!"
"I Love You Greater Than Space!" is a personal and spiritual guide through her story of falling in love and losing her husband after only 623 days of marriage. She describes the process of their courtship and falling in love as well as the profound sense of loss that results when loved ones pass away. It is through her Christian faith that she was able to find God's purpose in each situation and carry on.
Blount says, "All have or will experience the death of a loved one. This book reminds the reader he or she is never alone."
"I Love You Greater Than Space!" shares the couple's love story, the realities of dealing with death and mourning. The sections on finding love and the grieving process are told through poems, while the middle portion is a children's story illustrated by Mary Barwick. A grandmother, Blount wrote this second section to help children deal with loss. Through each section, the power of God's love is always present.
"Even in the darkest of times, our Lord's light shines," she says. "My understanding of His love hasn't changed, just expanded and deepened with age. I am blessed and grateful."
"I Love You Greater Than Space!"
By Lucy Dunn Blount
Illustrated by Mary Baldwick
ISBN: 978-1-4817-1275-0 (sc); 978-1-4817-1276-7 (e)
Softcover with audio CD, $19.95
Ebook with audio, $9.95
Approximately 138 pages
Available at http://www.amazon.com and http://www.barnesandnoble.com.
About the author
Lucy Dunn Blount has been writing letters of Christian encouragement for over 20 years and has written five books. She currently runs the radio program Living Treasure with Lucy MacLeod, a daily Bible study to offer encouragement. She is also the president of Precious Pilgrim Ministries, a collection of resources for people on their Christian journey. Blount currently lives in Alabama with her husband and enjoys spending time with her children and grandchildren. For more information, visit w http://www.livingtreasure.org.