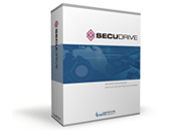 San Jose, CA (PRWEB) June 17, 2013
Brainzsquare releases a new file server security solution with copy protection technology, Secudrive File Server (SDFS). SDFS makes it possible to prevent files from leaving the file server due to unauthorized copying and audit how the files are handled by utilizing a detailed event log, while keeping the easiness of file sharing among users. The software runs after installation and opens in the existing windows file server while keeping the current file server settings. SDFS supports Windows local and AD accounts.
A specific user who installs the client program of SDFS can get access to a shared folder on the file server only if the administrator allows the user to handle files in the folder. Copy protection functions of SDFS includes disabling of the copy to local disk function and printing (or allowing printing with a watermark), screen capture prevention, disabling network transfer via email and messenger programs, and disabling copy to CD and USB flash drives. If an administrator allows a certain user to copy a file stored on the file server, a copy of the copied file can be securely backed up onto the file server to use for auditing purposes using the backup file function of the SDFS.
The file log records usage, date, time, file server, and the users that accessed the files, for easy file management by administrators. SDFS gathers only useful file logs relating to the users' actions by eliminating logs that do not relate to the user. For example, the file log does not record temporary files that are created when an application program reads a file, therefore administrators can audit and track the route of leakage quickly and efficiently.
"Many organizations are storing their important and confidential files in file servers to share the files with internal and external coworkers. But the level of security for file servers is generally pretty weak. SDFS has strong security functions that is easily installable and can be used with ease. I expect SDFS to become one of the most popular file server security solutions to contribute to secure file sharing and cooperation of TFT teams and SMBs," says Simon Kang, CEO of Brainzsquare.
About Brainzsquare:
Founded in 2000, Brainzsquare has been serving specialized and innovative data security solutions in the market. In 2006, with the launch of the SECUDRIVE product line, Brainzsquare provides products ranging from secure USB flash drives and data erasure products to copy protection software, device control, and file server security for corporate customers and content publishers.