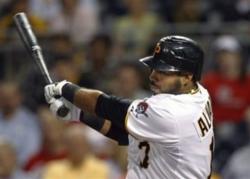 Pittsburgh, PA (PRWEB) June 17, 2013
By beating the LA Dogers yesterday 6-3, the Pittsburgh Pirates won their 41st game of the season, putting them at .594 and currently three games our of first place. They are exactly half way to ensuring that they have their first winning season in 20 years. Last year they did not win their 41st game until June 29th, and the year before until June 30th. Not only are they on their way to a winning season, but the way they have got this far is also unique. The team has used 11 different starting pitchers, due to many injuries and bad performances. Jeff Locke is the only pitcher in the current rotation that started the season in the rotation. Still, with all the injuries, the team's starters have managed to have the sixth best earned run average in baseball at 3.53. That number turns into a 3.32 earned run average when the bullpen is factored in, which is the third best average in the MLB. The Pirates are 13 games over even and have 93 games left in the season. With plenty of time left for their record to go either way, make sure you see at least one game at PNC Park.
On Sunday afternoon, the Pirates downed the LA Dodgers 6-3 in the last game of a three game series. Before Sunday, the series was tied at a game each. Pedro Alvarez had a three-run home run as he helped his team defeat the Dodgers. Alvarez hit his bomber in the fifth inning to break a 2-2 tie between the teams. It was his 15th of the season and came in front of a packed 37,263 crowd at PNC Park. Visit http://www.Pirates-Tickets.net to catch a game of this historic season for the Pirates, or check out the easy read game schedule. While on the site also be sure to use the social media Pirates fan hub to connect and interact with other fans.